Shawn Coltson took the tibial rod removed from his leg and incorporated it into his 1999 Yamaha Road Star motorcycle (similar to the picture above) as a shifter linkage.
McLaren Oakland doctor works to ensure pain-free life for area patient Shawn Coltson
By Jim Newell
Lake Orion Review Editor
Oakland County — For Shawn Coltson, a motorcycle mechanic with around 200 motorcycles and millions of miles on the road, getting a tibial rod out of his lower leg was a journey he'll never forget.
After failed attempts to remove the rod, Colston's journey finally ended when Dr. Trevor Crean, DO, an orthopedic specialist and surgeon at McLaren Oakland hospital, was able to remove the rod in January 2022.
In 1988, Coltson hit a deer, breaking the tibia and fibula bones in his lower leg. Doctors put a tibial rod in Colston's leg – a specially designed metal rod inserted into the canal of the tibia, commonly known as the shin. The rod passes across the fracture to keep it in position.
"Shawn's was a unique case, and one that had its share of complexities to which we had to make special considerations due to hardware that he had placed from a previous injury. But these are the lengths we'll go to provide the best care possible for each individual patient. Shawn's pain was affecting his quality of life," Crean said.
After getting the tibial rod inserted in 1988, Coltson's leg was not healing as it should have, leaving him temporarily disabled. "So, then they put a bone grow stimulator on there and it healed up in six months," he said.
Coltson was able to return to work and everything seemed fine for several years.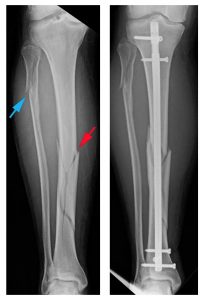 "As you get older you shrink a little bit. As I shrunk the rod was just in the top of my knee, and it ate all the cartilage out of my knee," Coltson said.
Compounding the issue was that, in 2021, Coltson learned he needed his knee replaced but the tibial rod needed to be removed before he could have the surgery.
Thus, began and arduous, painstaking journey to get the "damned thing out," said Coltson, who lives in Decker, Mich.
In the end, like a true motorcycle mechanic, Coltson would take the tibial rod that had been a part of him for 34 years and incorporate it into his 1999 Yamaha Road Star motorcycle.
"I made a shifter linkage out it," Coltson said.
In 2021, Coltson went to an orthopedic surgeon to get the rod removed.
"He beat on it and beat on it and had a slide hammer on it, but he could only get it out about an inch," said Coltson, who thought he would just have to live with the rod in his leg, for now.
Shortly after, Coltson began experiencing chest pains and his leg was black and blue from the middle of his calf down to his toes.
He went to the emergency room and was told to take pain medication. The next day he began coughing and coughed up a blood clot. He went to his doctor and was immediately ordered to go the intensive care unit at the hospital for four days.
It was then that Dr. Trevor Crean set up an operation to remove the tibial rod once and for all.
The surgery was scheduled at McLaren Oakland hospital in Pontiac, Mich. to remove the rod in Coltson's leg on Jan. 16, 2022 – and he made sure that Dr. Crean knew he wanted to see the rod laying next to him when he woke up.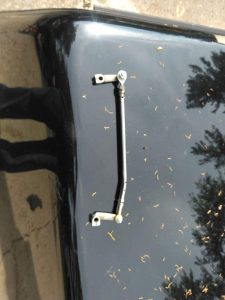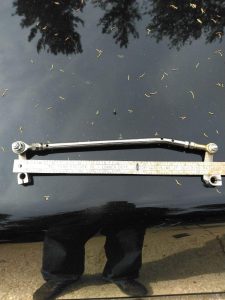 "It's mine. It's been in my leg since 1988, I'm going to build a shifter linkage out of it," Coltson said. "When I woke up it was laying there."
Coltson stayed true to his original intention and the tibial rod lasted for more than 500 miles as a shifter linkage before finally breaking. Coltson kept the broken rod as a memento.
"Trevor's the guy. Anybody that's got anything going down like that I send them right to him. Not many doctors will give a patient their cell number," Coltson said.
Since the rod has been removed, Crean has replaced both of Colston's knees and now he rides, and works, free of pain.
"I'm pain free," said Coltson. "I'd been walking and wobbling for 15 years."