By Megan Kelley
Review Writer
LAKE ORION — The Lake Orion High School boys varsity soccer team improved their season record to 5-4 overall (2-1 OAA White) with several recent hard-fought league battles.
The Dragons had a strong 2-1 victory over Stoney Creek at home on Aug. 28.
Senior Ezekiel Bargas opened the scoring for Lake Orion in the 11th minute, after receiving a cross from senior Drew Fidstrom.
Stoney Creek answered with a goal in the 28th minute off a deflected free kick.
Lake Orion entered halftime with the game tied at 1-1.
The game remained tied until the 81st minute when junior Billy Kappler was fouled in the Stoney Creek penalty box. Bargas scored the resulting penalty kick to give the Dragons the 2-1 lead.
Stoney Creek continued to pressure Lake Orion through the final minutes of the game but could not convert.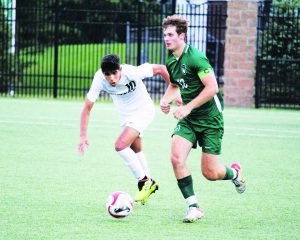 The defensive line, anchored by junior Broden Janczarek, sophomore Joey Gaytan, sophomore Will Farmer and junior Matt Toffolo, along with sophomore goaltender Brendan Zale, were able hold the lead to notch the win.
The team hosted Royal Oak on Aug. 31 for another OAA White match up where the Dragon's were defeated 2-1. Royal Oak currently tops the league standings with a 2-0 record.
"Royal Oak is very good. Sort of a senior-laden team. We are pretty young actually. I think I have probably eight or nine kids who this is their first year on varsity," said Lake Orion head coach Chris Coretg. "We've played a lot of good teams. Our losses have come from Utica, Adams, Royal Oak and Oxford. Royal Oak, Oxford and Adams are all top ten in the state in the division. Utica has one loss and I think seven or eight wins. Oxford has one loss and I think eight wins. Royal Oak I think is undefeated, I think they're 6-0. So, we've lost to some really good teams and we've done well."
On Sept. 7, Lake Orion had a decisive 5-1 win over another OAA White competitor, West Bloomfield.
"It was probably our best performance. I told the guys at the end of the game; 'at worst an A-, maybe an A.' But we have a history going here of giving up free kicks in the final third and teams are scoring on them and we've lost some games because of it and sure enough that's how they got their goal. So, that could have been an improvement but a solid performance obviously," Corteg said. "Offensively, five goals against a halfway decent team, that's pretty good. I was quite happy. The kids were very happy."
Lake Orion opened the scoring against West Bloomfield in the second minute of the game with junior Matias Ballina-Loza placing a header under the crossbar, finishing a cross from junior Will Jeakle.
Nine minutes later, West Bloomfield was able to feed a ball into the Lake Orion defensive zone to even the score at 1-1.

Following the West Bloomfield goal, the scoring belonged to Lake Orion.
In the 24th minute, Ballina-Loza added his second goal by converting a through ball from Kappler.
Prior to halftime, junior Nico Lasso added a well-placed goal to the far post after receiving a deep feed from Bargas.
Lake Orion entered halftime with a 3-1 lead.
Following the halftime break, Lake Orion continued scoring, with Bargas converting a heel pass from Finstrom in the 47th minute.
Kappler added a header goal in the 61st minute, finishing a cross from Jeakle.
The Lake Orion defensive lines, including Janczarek, Gaytan, Farmer, seniors Calvin Maes, Evan Kelly, Luke Brown, along with senior goalkeeper Ryan Bunn, continued to answer West Bloomfield's comeback attempts through the final minutes.
As the team nears the halfway point of its season, Corteg thinks the team's strength lies in their passing but the Dragons do land themselves into a bit of trouble when it comes to giving away free kicks.
With that in mind, Corteg still thinks the team has the ability to do well during the season.
"Team goals would be to have a winning season, win the (OAA) White and then try to make a run in the playoffs," Corteg said.
Corteg also anticipates the two senior captains, Ezekiel Bargas and Calvin Maes, to be key players this season.
"They're the cornerstone of our team. Calvin can play up top, he can play center mid, and I put him in the back as central defender. He's done a great job the last two games," said Corteg. "Ezekiel is a very accomplished player. Good skills, great first touch, creative and works very, very hard on the field."
Despite having a young team, Corteg believes that not only will this be a good season for the Dragons, but that next season will be as well.
"It's a young team and a lot of guys are getting a bite of the apple, so to say, and are improving. It's a good group of guys and this season and next season should be good for us," said Corteg."
Lake Orion plays Bloomfield Hills, a team Corteg says to be Lake Orion's biggest competition, on Tuesday after Review press time and hosts Clarkston on Thursday.
Brian Kappler contributed to this report.