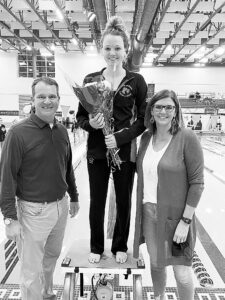 Year: Senior
Grade Point Average: 4.24
Parents: Katie and Mike Valentine
Sport: Swimming
Earning the team's Senior of the Meet Award during the Oakland Activities Association (OAA) White Division Finals on November 5 – a meet in which the Dragons finished in second-place – Lauren Valentine has been instrumental to Lake Orion's success this season, not only as an individual, but also in the relay events.
A four-year varsity swimmer who has been at the sport competitively since she was five years old, Valentine participates in the 200-yard freestyle, 100 backstroke, 200 medley relay, and 400 freestyle relay.
The ability to represent the Dragons in a wide variety of events is a testament to Valentine's prowess, but when asked if she has one event that stands out as her favorite, it was an easy call.
"100 back, for sure," she said, laughing. "I love the 100 back."
Lake Orion's girls' swimming program is coached by Haley Kornburger, who is wrapping up her second season. Valentine has garnered All-OAA recognition in each of those two seasons, providing the coach with a talented, veteran presence to lean on and someone to show the younger swimmers what success at the Michigan High School Athletic Association (MHSAA) level looks like.
While Valentine has certainly been an asset for Kornburger to have from the beginning, she credited the coach – who was a standout for the Oxford Wildcats and swam collegiately at Michigan State University – with helping her reach another level, too.
"The past year-and-a-half, I've improved a lot, especially in my sprint events," Valentine said. "I've very thankful that she's been here to help me."
Valentine thanked a couple of other figures that have been influential in her career, pointing to her mother, Katie, and current assistant coach Darin Abbasse, who has long ties to Lake Orion High School as an Assistant Principal and the swimming program, plus the local club swimming scene.
"My parents have played a big role in it, mainly my mom because she was a swimmer and pushed me into the sport," she began. "And then, Darin Abbasse, the assistant coach, he's my club team coach, as well, so he's helped me in the offseason and keeping me in shape."
More impressive than her list of accomplishments in the water, Valentine owns a 4.24 grade point average and is a member of the Science National Honor Society. She hopes to continue swimming collegiately and has been in contact with schools such as Carnegie Mellon University in Pittsburgh, Pennsylvania and Case Western Reserve University in Cleveland, Ohio, both of which rank among the nation's best research institutions.
Asked what has fueled much of Valentine's success, Kornburger pointed to her attitude and mental toughness.
"I think she's got a great attitude," the coach began. "One of the biggest things – in such a grueling sport, where you're staring at a black line every single day – is trying to find the fun in practice and make it less monotonous and she definitely shows up with a positive, hard-working attitude, so that's something I wish I could pass along to all my swimmers.
"Something else is that she's very aware of her teammates and their successes. At a swim meet, there's lots of confusion going around, lots of moving parts, but she definitely knows when someone's dropping time, she's on the sidelines watching the entire time and that's really important to have – not just in someone that's a captain like her, but throughout the entire team. That's something I really appreciate about her.
"She's just a great kid. She comes in, she wants to be better, she works hard, she responds to critique, all to be the best swimmer she can be. Sometimes, it's hard to break habits or things that swimmers might have ingrained with their stroke, but she's definitely receptive to new ideas and I think that's really going to benefit her, especially if she goes on to swim in college."
One of just two fall sports still ongoing at Lake Orion High School, along with volleyball, Valentine qualified for the MHSAA Division 1 State Meet in all four of her events, which will be held November 19-20 at the Holland Aquatic Center. — T. Rydquist