By Jim Newell
Review Editor
ORION TWP. — Another year over and a new one just begun.
This week, The Lake Orion Review looks back at some of the stories – the news and business stories, sports and school highlights, public safety and events – that helped shape the Lake Orion community in the final third of 2022.
So, without further ado, this is the news that was…
Sept. 7
Patriot Day ceremony to remember 9/11 sacrifices 21 years later: Orion Twp. firefighters, Oakland County Sheriff's Office deputies, Lake Orion police officers, veterans and others are hosting a Patriot Day remembrance ceremony at the Orion Veterans Memorial on Sept. 11.
'Meijer Grocery' store to open in Orion Twp. in early 2023: A new Meijer Grocery store is currently under construction on M-24 in Orion Twp. Meijer says the store should open in early 2023.
Orion Twp. Public Library to end late fees, wipe out existing patron overdue fines: The library announced it would end late fees and wipe out the existing debt of patrons who still owe for overdue materials. The "fine-free" policy goes into effect on Sept. 6.
"Lake Orion thrives when everyone has access to the materials they need," said library Director Chase McMunn.
Century old sign restored at Square Lake Cemetery: The sign over the entrance to the Orion area's oldest cemetery was recently restored to its original finish, keeping intact the original brass lettering that had been in place since 1913.
Dragon mountain bike team pedals to the podium: The Dragon Mountain Bike Team kicked off its six-race season at the mountain bike trails at Mid-Michigan College on Aug. 27-28, with several members of the team reaching the winners' podium.
---
Sept. 14
Village of Lake Orion website will get an upgrade: The Lake Orion Village Council voted 5-0 to approve a contract with CivicPlus for website services during its meeting on Sept. 12. The contract was approved in the amount of $3,450 for design and migration and $3,105 for hosting the first year and $3,260.25 for year two.
Village Council sets second public hearing for Ehman Center property exemption certificate: the village council will hear public input on granting a property exemption certificate – one of the steps in granting a tax abatement – to the proposed Ehman Center redevelopment.
HAM Radio Club provides behind the scenes weather, safety reporting: the Orion Township HAM Radio Club meets regularly at the Orion Center.
Dragons tame the Wildcats, 28-10, in rivalry game: Lake Orion defeated Oxford on the football field and brought home the coveted Double-O trophy.
---
Sept. 21
Lake Orion Village Council sets date to interview village manager candidates: The council invited the top five candidates and current interim village manager D. Wayne O'Neal to interview for the position on Sept. 30.
Lake Orion DDA enters into a $2.4 million purchase agreement on Lake Orion Lumber Yard property: The Lake Orion Downtown Development Authority has entered into a purchase agreement to buy the Lake Orion Lumber Yard property for $2.4 million. The DDA Board of Directors received and filed the agreement during its Sept. 13 meeting.
Village to start Lake Orion lake drawdown Sept. 26: the five-year drawdown begins this month after the village council/administration were unsure if the drawdown would happen.
Lake Orion school board reauthorizes ThinkLink partnership with Orion Twp. Public Library: The partnership seeks to expand the educational opportunities and academic achievement of district students by combining each entity's individual resources.
Highlanders dominate the Dragons in lopsided, 42-21 win: Rochester Adams defeated Lake Orion on the football field on Friday in an OAA Red matchup.
---
Sept. 28
Lake Orion Village Council to interview village manager candidates on Friday: The council is expected to interview five candidates with up to 40 minutes each set aside for each candidate, with a five-minute break in between interviews.
Dragons, Wildcats tie on soccer pitch: Lake Orion and Oxford boys soccer teams tied 1-1 on Sept. 22.
Village council race grows to seven candidates: There are now seven candidates running for Lake Orion Village Council in the Nov. 8 General Election.
Lake Orion resident Riva Beatty filed her paperwork to run as a write-in candidate in the election.
'Real Men of Orion' host several events in October to raise funds for ACS: The Real Men of Orion have kicked off their annual fundraising drive to raise awareness and money for the American Cancer Society's Real Men Wear Pink campaign, supporting breast cancer research and those affected by breast cancer.
Village delays Lake Orion lake drawdown: The Village of Lake Orion has delayed the Lake Orion lake drawdown to give residents more time to remove their watercraft.
The information was shared during the council meeting on Monday.
Lake Orion alumni inducted into 2022 Wall of Excellence class: Lake Orion Community Schools welcomed two alumni to their Wall of Excellence last Friday at Lake Orion High School.
The two inductees; Tim Myers and Dr. Eric Bartelink, make up the 2022 class of inductees.
Bartelink is a 1992 graduate of Lake Orion and is a professor of biological and forensic anthropology at California State University.
Myers is a successful businessman who has run businesses and overseen operations in over 20 countries.
---
Oct. 5
Dragons kick off Homecoming Week with a parade on Sunday: Lake Orion High School kicked off Homecoming Week activities with the annual parade on Sunday afternoon in downtown Lake Orion.
Seven candidates vie for Lake Orion Village Council in Nov. 8 election: meet the candidates preview. See Nov. 18 for results.
Lake Orion Village Council interviews five candidates for village manager: The village council interviewed five candidates for village manager but postponed a decision until the next council meeting when all council members were present.
---
Oct. 12
Five candidates compete for three seats on Lake Orion school board: meet the candidates election preview. See Nov. 18 for results.
LO Village Council brings back former manager Darwin McClary as new village manager: Lake Orion's village council may have closed the book on the saga of the village manager on Monday when the council voted 4-3 to hire Darwin McClary as Lake Orion's new village manager.
Council President Ken Van Portfliet, President Pro-Tem Jerry Narsh and Councilmembers Teresa Rutt and Brad Mathisen voted in favor of hiring McClary.
Councilmembers Michael Lamb, Sarah Luchsinger and Doug Hobbs voted against hiring McClary and wanted to keep current Interim Manager D. Wayne O'Neal.
McClary was previously Lake Orion's village manager from July 2013 through February 2017.
Dragons lose Homecoming game to the Wolves, 45-41: Lake Orion lost to Clarkston on Friday and is now 3-4 on the season.
Senior ladies dominate juniors in powder puff game: Lake Orion High School held their annual Homecoming senior vs. junior powder puff game last Thursday with the senior team crushing the juniors 27-7.
---
Oct. 19

Dragon boys, girls cross country teams take second place honors at inaugural Lake Orion Stan Ford Cross Country Invitational: Former Lake Orion cross country coach Stan Ford presented the second-place trophy for the inaugural Lake Orion Stan Ford Cross Country Invitational to the boys varsity cross country team on Friday.
Village holds public hearing, approves request for Ehman Center development: Tax abatement process moves forward after 6-1 vote: The Lake Orion Village Council held their public hearing for the consideration of a Commercial Rehabilitation Exception Certificate for the West Construction project at 55. W. Elizabeth Street, also known as the Ehman Center.
Councilmember Michael Lamb cast the lone nay vote, saying he opposed tax abatements.
Village council takes no action on request to send DDA TIF capture petitions to voters: During their meeting on Oct. 10, the Lake Orion Village Council discussed a request from village resident Harry Stephen to either take affirmative action on the petition or agree to hold a special election.
The council made no motion to do either of those things, effectively putting the matter to rest, for now.
LOCS school board approves bid awards for series 2 bond work: furniture for the STEM room and Media Center at Stadium Drive Elementary, $63,428.52.
Purchase of student devices for second grade students is not to exceed $457,395.
She deserves a break today!: After 44 years as a member of the McDonald's teams in Oxford and Lake Orion, Patty Smith said goodbye on Friday to the Golden Arches and her role as general manager at the Oxford McDonald's.
---
Oct. 26
Village Council approves contract with new village manager: Darwin McClary to take the helm on, or after, Nov. 28.
Halloween Extravaganza!: The Lake Orion Downtown Development Authority hosted the annual Halloween Extravaganza in Children's Park with more than 1,500 people attending.
Oxford High School shooting suspect pleads guilty to murder, terrorism: Sentencing to follow at Feb. 9 hearing: On Monday morning, Ethan Crumbley, 16, pleaded guilty to all charges brought before him in regards to the Nov. 30 mass shooting at Oxford High School.
LO girls, boys finish fifth at Cross Country Championship: both cross country teams finished in fifth place at the OAA Red Cross Country Championship on Thursday.
Dragon sophomore Blake Peardon was eighth overall for the boys in the 5K race at Clintonwood Park in Clarkston.
---
Nov. 2
Orion Twp. Clerk's office prepares for absent voter ballots, election day: "We have about 7,000 (absent voter) ballots that have been issued. We only have about 3,000 that have been returned," said Clerk Penny Shults.
Oxford/Orion FISH thanks Sam Caruso for 32 years of holiday food drive donations for the community: Dr. Sam Caruso, owner of Caruso Chiropractic has held an annual canned food drive one week during the month of November for 32 years with all donations being given to the Oxford/Orion FISH Food Pantry to feed those in need during the holiday season.
LOCS discusses ground lease agreement for cell tower on property: The Lake Orion Community Schools Board of Education discussed a proposed ground lease agreement with Tower Co 2013 LLC, for a cell tower on some district property on East Clarkston Road. The district would receive a monthly rent of $1,850 with an automatic two percent increase per year.
---
Nov. 9
Village planning commission hears concept plan for new apartment building: A three story apartment complex could be coming to the Village of Lake Orion, this time at the site of the former Lake Orion Pet Centre. The bottom floor would be retail with 16 total apartments on the top two floors.
LOCS reviews M-Step, beginning-of-the-year student achievement: Lake Orion students above state average in core subjects.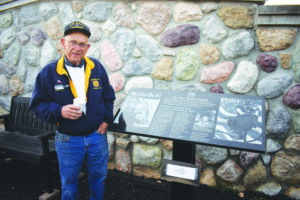 Plaques honoring all the 'Rosies' installed at Orion Veterans Memorial: A new plaque at the Orion Veterans Memorial honors the women who answered the call to help during World War II by taking jobs traditionally held by men.
LOCS Board of Education authorizes ground lease agreement for cell tower: The Lake Orion Community Schools Board of Education authorized a ground lease agreement with TowerCo 2013 LLC for a cell tower on district-owned property on East Clarkston Road during their Oct. 26 regular meeting.
Scripps Middle School's Rebecca Lowe named School Librarian of the Year: The Michigan Library Association announced the honorees for the 2022 Michigan Library Awards, naming Lake Orion Community Schools' Rebecca Lowe as the School Librarian of the Year. Lowe is the Media Specialist at Scripps Middle School.
Dragons fall to Wolves in volleyball district finals: Lake Orion High School's varsity volleyball team lost in the district finals on Thursday to Clarkston, three sets to two.
Hole in one! Lake Orion High School golfer Ellie Britt shot her first career hole-in-one at the division one state finals in Battle Creek last month. The 145-yard drive was on the 17th hole at Bedford Valley Golf Course.
---
Nov. 16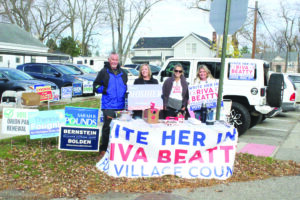 Lake Orion Village Council, LOCS school board members elected: Nancy Moshier, Carl Cyrowski, Teresa Rutt and Ken Van Portfliet were elected to the village council in the Nov. 8 election. Brad Mathisen and Doug Hobbs lost their re-election bids.
Jake Singer, Heather Sinawi and Steven Drakos were elected to the LOCS school board. Board President Jim Weidman did not seek re-election.
LO Village council at a stalemate on council leaders vote: The village council deadlocked 3-3 on its nominations for village council president. The vote was postponed until the next meeting when the seventh member, Carl Cyrowski, would be present to break the tie.
Orion Twp. Parks & Rec. millage passes: Orion Twp. voters overwhelmingly passed a millage renewal request for Orion Twp. Parks & Rec., approving a five-year tax levy to support ongoing parks maintenance and development.
Donni Steele triumphant in bid for state representative: Orion Twp. Treasurer Donni Steele won the race for House of Representatives, 54th District, defeating Democrat Shadia Martini of Bloomfield Twp.
LOCS Board of Education reviews 2022-23 student enrollment numbers: 2022 student count down 18 students from last year's count.
---
Nov. 23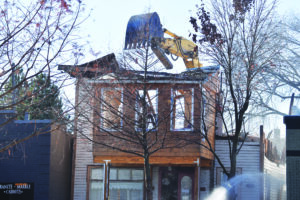 Lake Orion boarding house destroyed by fire in January is finally razed: A historic home at 35 N. Broadway St. that caught fire on Jan. 14 was demolished on Nov. 21. The home had served as a boarding house in recent years.
Informational meeting Nov. 29 on planned Orion/ Stoney Creek/Conklin roundabout: The road commission is planning to build a roundabout at the Orion/Stoney Creek/Conklin roads intersection in 2023.
LOHS student-athletes sign letters of intent to play college sports: Signing their letters were Quinn McElroy (lacrosse, Grand Valley State Univ.), Nina Horning (volleyball, Cincinnati Univ.) and Sophia Shonts (ice hockey, Adrian College).
---
Nov. 30
Lake Orion Village Council elects president and president pro-tem: The Lake Orion Village Council has a new president after its members unanimously voted Jerry Narsh to the position during their regular meeting on Nov. 28.
The council unanimously voted Teresa Rutt to the position of president pro-tem, similar to a vice-presidential role.
Village Council approves resolution dedicating 75 percent of new TIF captures for infrastructure: During its meeting on Nov. 28, the Lake Orion Village Council adopted a resolution which would give the village 75 percent of all future tax increment revenues (TIF) captured from the Downtown Development Authority TIF from all new captured taxable value.
Orion Twp. deputies to participate in Shop with a Hero program, community support appreciated: The Orion Township substation deputies are once again participating in the Shop with a Hero program, providing area kids who may not otherwise have a festive holiday with a shopping spree to buy gifts, clothes or other items.
Lake Orion Community Schools receives 'unmodified opinion' on annual audit review: District receives 'highest form of assurance possible', auditor says.
---
Dec. 7
Urbanowski appointed new Orion Twp. treasurer: The Orion Township Board of Trustees voted 5-0 during its meeting on Monday to appoint Trustee Kim Urbanowski to township treasurer, effective on Dec. 20.
Village of Lake Orion receives 'unmodified opinion' on annual audit: The Lake Orion Village Council received the village's annual audit presentation during their meeting on Nov. 28.
LOCS school board reviews strategic plan progress: The board approved the new strategic plan in April, and has since had two of the three planned progress meetings.
Orion Area Chamber of Commerce welcomes new President and CEO: Joyce Donaldson was named the new President and CEO of the chamber.
---
Dec. 14
Village council approves bid award for Meek's Park bridge replacement project: The council approved a contract with JSS-Macomb LLC for $109,513 for the Meek's Park Pedestrian Bridge Replacement during the Dec. 12 meeting.
Lady Dragons kick off season with three commanding victories: The Lake Orion High School varsity girls basketball team started the 2022-23 season off securing victories over Oxford, Pontiac and Lutheran Northwest high schools.
---
Dec. 21
Lake Orion Village Council adds public participation rules during meetings: During their meeting on Dec. 12, Lake Orion Village Council President Jerry Narsh took time to read the council's public participation rules and notify council meeting attendees that the rules will be enforced.
LOCS Supt. Ben Kirby receives "highly effective" rating in annual evaluation: This year-end review serves as both the conclusion of the 18-month review period and as a transition from the school calendar to a January-December evaluation period.
Lake Orion boys basketball team loses at the buzzer to Clarkston: The Dragons lost a hard-fought game 38-35 to the Wolves on Dec. 13 and are 3-2 entering the holiday break.
---
Dec. 28
Lake Orion police seek info, identity of hit-and-run driver who crashed into local restaurant: The Lake Orion Police Department is looking for a driver whose truck slid on Broadway Street and crashed into Bitter Tom's restaurant on Dec. 23 and then drove off.
'We all have holiday cheer!' — Blanche Sims students save Principal Ken Nuss from fate as an 'Elf on the Shelf.'
OCSO Search and Rescue team saves swan frozen to the ice on Lake Voorheis: After receiving several calls from concerned residents, the Oakland County Sheriff's Office Search and Rescue Team used its hovercraft on Thursday to rescue an injured swan that was frozen to the ice on Voorheis Lake in Orion Township.
LOHS DECA club recognized as a THRIVE level chapter: Lake Orion High School's DECA club was one of 525 chapters that achieved THRIVE level recognition this year and will be commended at DECA's International Career Development Conference (ICDC) held in April 2023 in Orlando, FL.