St. Joseph Catholic Church held their annual Blessing of the Pets on Sunday afternoon.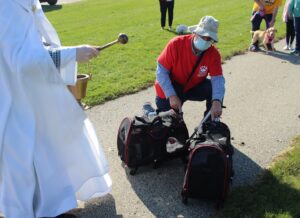 The early fall weather made it an enjoyable time so that even in the midst of the pandemic, families decided to load up their animal companions and bring them to the church grounds where Father John lead the family in prayer and went around to bless each pet with holy water.
Pets this year ranged from the traditional dogs and cats to bunnies and birds, as well as a chicken and even a pig.
One resident who looks forward to this each year is Dennis Lakomy who brings his two cats Willow and Sadie to get their blessings each year.
Lakomy takes pride in the event because he is one of the reasons the church brought it back after they had stopped holding it for several years prior, he said.
"I asked them if we could start it up again and last year we did," Lakomy said. "You never know if you don't ask."
St. Joes Blessing of the Pets is an annual event held on the front lawn of the church.
St. Joseph Catholic Church is located at 715 N Lapeer Rd. — M.K.