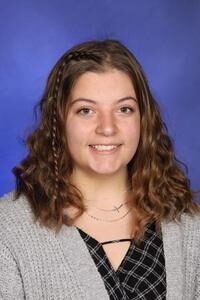 Parents: Giselle and Jamie Graham
Grade: 12
GPA: 3.5
Favorite subject(s): Math and science
Extracurricular activities: OWLs, Yearbook, Skiing and NAHS
Hobbies/Interests: Photography and skiing
Plans after graduation: I plan to either attend an art school or a university and study photography.
Emma is proudest of: I am proud of how far I've come with my art. I am self taught and I find it very rewarding seeing how far I've come since starting my interest in photography back in middle school.
Emma makes a contribution by: Being kind. I think being kind ot others is important because you never know what your peers could be dealing with outside of school.
Where Emma sees herself in 10-20 years: I see myself living in a city, owning my own studio and becoming my own boss.
What concerns Emma in the world: Equality, I believe we should all be treated the same no matter the color of our skin or the body we are born in.
Favorite thing about Lake Orion High School: The size of the school, it can be overwhelming at times, but I like bigger atmospheres over smaller ones.
Recommending Teacher: Mrs. Orth