By Megan Kelley
Review Writer
ORION TWP. — Young ladies at Orion Oaks Elementary are finding their voices and learning social skills to carry with them for the rest of their lives in the school's ROLL Club.
The Responsible, Open-minded, Legendary Leaders (ROLL) members are girls from grades three through five who have shown exemplary behavior and leadership in school amongst their peers.
Led by teachers Kim Acton and Annalee Barry, the girls meet every Thursday after school to play games, do activities and have group discussions about topics like friendship and conflict resolution, all with the goal of uplifting the girls and give them additional tools that will help them later in life.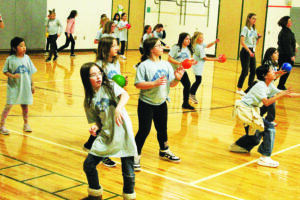 "The biggest thing now, and I think it's from them being online and COVID and everything, I think that social conflict resolution has been so hard this past year and I think that some of them are just really struggling with that so that's one of our biggest things is really helping them feel confident and independent and be able to work out their problems," Acton said.
Acton and Barry also encourage the girls to be open about what kind of things they would like to discuss or work on, which has created a safe environment for the girls to grow as individuals and as a group both in and out of school.
"The girls do always come to us and I think it's been helpful for a lot of them," said Acton.
The club, which is in its second year, has also had the benefit of some of its previous members returning to give the elementary aged girls some insight in how they handled situations in middle school.
"It's so great having the middle school girls come in so they can say 'this is how I handled it as I got older' or they can kind of speak about different situations like on the bus," Acton said.
Members of the club are nominated by either other teachers at Orion Oaks or by girls who are already in the club. The club currently has over 40 members and Acton and Barry get new nominations for additional members all the time.
"It's really something that the kids strive for," Acton said. "They don't need to be perfect."
Being a part of the club has become somewhat of an honor for many of the members who wear their ROLL club shirts with pride around school and encourage others to do their best so they can also one day be in the club.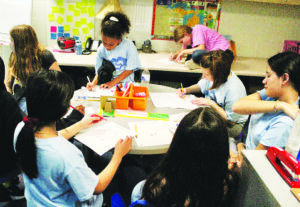 "This group makes me think about leaders and how if we act good then other people can see us acting that way, in a positive way, so that they can try and be good like that," one student said. "We're the leaders."
Orion Oaks, as well as all the other elementary schools in the district, also participates in the Positivity Project, an educational curriculum which teaches students how to build strong relationships by using 24 different character strengths like leadership, forgiveness, bravery and curiosity.
Each week, the entire school learns about a new character trait, which Acton and Barry have embraced and been able to have continued discussion about in ROLL Club.
"In the fall, when we would go outside, we would incorporate all these activities," Acton said. "We did one with glitter, and talked about if you talk about somebody and then they tell someone else and they tell somebody else then the glitter is gone because it changes so much as it goes on."
While the girls have fun playing dodgeball, chatting with friends, eating snacks and making new friends; Acton and Barry hope that their time spent in ROLL club will give them knowledge that they can use later.
"I hope that they feel like they've learned something," said Acton. "I just hope that they can carry it forward and it will help them in life and that they will be kind."