Lake Orion, Oxford cross country teams raise $5,000 for 42 Strong Foundation
By Jim Newell
Managing Editor
OAKLAND COUNTY — While they may be rivals on the athletic field, the student-athletes from Lake Orion and Oxford care about supporting one another off the field, especially when it's for a great cause.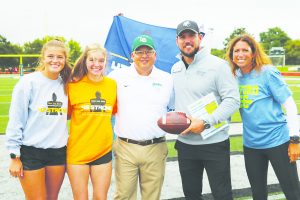 Before the football game on Sept. 8, the Lake Orion and Oxford cross country runners came together to support 42 Strong, the foundation started in memory of the late Tate Myre, who played football at Oxford High School and wore number 42. Myre was one of the four Oxford High School students who died on Nov. 30, 2021.
The cross country runners relayed the game football from Oxford High School to Lake Orion High School to raise funds for the foundation. Drivers honked their horns and cheered out of the windows of their vehicles as the teams ran by.
"I worked at Oxford (schools) for 22 years. Tate Myre, he was one of my former students. I know the family really well and I thought it would be really cool to raise money for 42 Strong," said Andrew McDonald, head coach of the Lake Orion boys cross country team.
McDonald said he was informed by the foundation that their efforts had raised around $5,000, though the official numbers were still being tallied.
"Everything (raised) is going to the mentor program that 42 Strong is. I think it's a good opportunity for our community. We had a parent meeting and they were all excited. They said, 'Yeah, this is something cool for the kids,'" McDonald said.
The 42 Strong Tate Myre Foundation is a peer-to-peer mentorship program for youth in their communities. The foundation, which launched in May 2022, is dedicated to creating a better future by helping students develop a greater sense of purpose, community and resilience, according to information from 42 Strong website. Online: 42StrongTate.org.