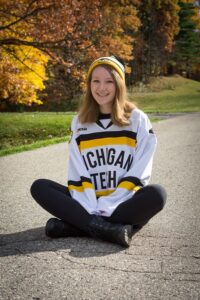 Parents: Bonnie and Brett Giem
Grade: 12
GPA: 4.2
Favorite subject(s): Science and Choir
Extracurricular activities: Swimming and I'll be doing waterpolo this year. I'm also a lifegaurd at the LOHS pool.
Hobbies/Interests: Swimming, hanging out with friends, puzzles, video games.
Plans after graduation: Study Environmental Engineering at Michigan Tech.
Emma is proudest of: Making good decisions and having empathy for others.
Emma makes a contribution by: Everyone has the ability to help the environment. I make sure to reduce my single-use plastics, recycle and compost. I also try to educate people around me about how they can help too.
Where Emma sees herself in 10-20 years: Hopefully I'll be creating new ways to help the environment.
What concerns Emma in the world: Climate change
Favorite thing about Lake Orion High School: I really like my friends, most of the classes and the LOHS girls swim and dive team.
Recommending Teacher: Mrs. Logsdon