By Jim Newell
Managing Editor
DETROIT — Hail to the Dragons! The Lake Orion High School Marching Band finished third in the state at the Michigan Competing Band Association finals.
The marching band performed their routine entitled "Survivor" at Ford Field on Saturday.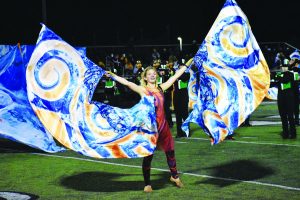 This is the fifth time in the past six years that the Dragons have finished in the top five in the state.
Rockford High School won the 2023 state finals with a score of 88.05; Walled Lake High School was second with a score of 87.55; and Lake Orion High School was third with a score of 84.95 in Flight I.
The state marching band championship is broken up into "flights," which are divisions distinguished by the size of the student body at each school. Flight I is for schools with the largest student populations.
The Lake Orion Marching Band, under the direction of Michael Steele, is consistently ranked as one of the top marching bands in the state.
In 2022, the Dragons finished second in the state. In 2021, the band placed third. In 2019, the band was second, and in 2018 Lake Orion finished fourth at the MCBA state finals.
See lakeorionreview.com and the Review's Facebook page for more photos.