Before they take the stage, the Lake Orion High School thespians rehearse 'Clue' during a table reading. Photo by Megan Kelley.
Performances are Nov. 16-18 at LOHS
By Megan Kelley
Staff Writer
LAKE ORION — Lake Orion High School's theater department is hard at work preparing for the fall production of "CLUE", set to open on Nov. 16 with additional performances on Nov. 17 and Nov. 18.
The play itself is based on the classic board game CLUE, featuring the same well-known characters like Mrs. Peacock, Mr. Green, Colonel Mustard and Professor Plum.
"The play is about a murder mystery based on the board game and it's all about these six people who are being blackmailed and their journey through trying to not be blackmailed that accidentally gets them into deeper trouble. They slowly unravel this mystery of what each of their lives are and how they got into this position that they're in," said sophomore Owen Kurth, who plays Mr. Green. "It's just a ridiculously hilarious adventure throughout all of this with some fun twists and turns."
Over the past month, students have been working alongside faculty advisors Meghan Dyer and Chris Omeara to prepare for the show.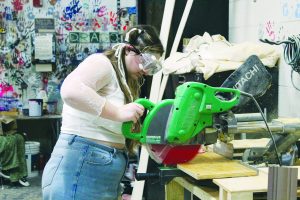 "It's meeting every day after school for about two and a half hours to learn the blocking and run our lines but it's also stuff like doing choreography for the scene transitions, because the scene transitions are complicated and there's some little dance and combat bits that we need to get down," said senior and president of the LOHS Theater Trope 2898, Lucas Hyttinen who plays, the butler Wadsworth. "It's all of us working together to form great chemistry as a cast as well as the techies putting just as much, if not more, work than we do making the set and the lights and sound and everything you see besides the actors."
While the LOHS theater department is used to having big sets, the set for CLUE is expected to be one of the biggest they've had.
"In comparison (to the High School Musical set) they're similar in terms of complexity. The High School Musical set was just so grand and large and this one has a lot of intricate details including things we have to wheel on and off while normally you just bring pieces of the set on and off," said senior Lexie Strohschein who plays Mrs. Peacock. "This is something, at least in the four years that I've been doing this, that I've never experienced would be bringing actual rooms within the set wheeled on and off the stage, which is tricky, not only for the people building it, who have to do it, but it's also a unique angle for the actors and for the audience to experience multiple rooms in the house at once."
Students have spent countless hours preparing for the show, embracing the story while also putting their own spin on it, something senior Emma Chamarro, head of marketing for the show, says sets it apart from production's they have done in the past.
"You should come see our show because it is going to be different than something we've done before while also telling a thrilling story and our character's are being portrayed uniquely, yet so classically that it will make you have a whole different outlook on the game you once knew," Chamarro said.
Tickets for the production can be purchased online at payschoolsevents.com/events/details/29683. Tickets for seniors and students are $7 and adult tickets are $9. Show times are 7 p.m. on Nov. 16, 17 and 18 with a matinee performance at 2 p.m. on Nov. 18.