Team heads to league meet this week
By Megan Kelley
Staff Writer
ORION TWP. — The Lake Orion High School girls varsity swim and dive team secured another win last week against Stoney Creek, defeating the Cougars 110 to 76 in a dominant performance.
Earlier this season the ladies had placed just behind Stoney Creek at the county meet and last season, they defeated the Cougars by just one point.
The meet in the LOHS natatorium also served as senior night, celebrating the team's eight swimmers in their final season at Lake Orion: Alaina Thuss, Emma Timms, Paige Potter, Kalie Harris, Abby Corrigan, Ella Terenzi, Sara Gregg and Clarisse Larson.
The Dragon relay team of Gianna Perazza, Lillian Larson, Kate Rhodes and Potter took first place in the 200-yard medley relay with a time of 1:57 minutes, just ahead of the Stoney Creek team. This team has already qualified for the state meet.
Potter also took first in the 100-yard backstroke with a time of 1:02 and in the 200-yard individual medley with a time of 2:15, about eight seconds ahead of Perazza, who finished in second in both events.
Rhodes took first in the 50- and 100-yard freestyle with a final time of 25.67 seconds and 56.98 seconds, respectively.
Addison Thomas took first in the 500-yard freestyle with a time of 5:40. Adriana Waller and Kennedy Gahan finished in second and third place, respectively.
The Dragons also earned a victory in the final event of the night, the 400-yard freestyle relay, with the team of Rhodes, Potter, Waller and Briana Hernandez finishing in 3:50.
Lake Orion divers had a good night with Timms, Thuss and Gregg taking the top three spots with final scores of 198.05, 188.05 and 169.70, respectively.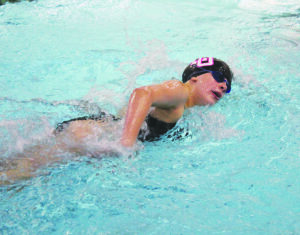 "I definitely thought it was going to be a lot closer than that so it was nice to see us walk away with that win on senior night," said head coach Haley Kornburger. "Any meet that I think is going to be close…that we're able to pull out a win, I love seeing that because it means that our training is working, the girls are rising to the occasion and they're really going for it."
The Dragons are 6-4 overall and the win against Stoney comes at the end of one of the best seasons the girls have had in several years.
"I'm really happy with where we are right now. I was looking the other day at our stats. Right now, currently, we're ranked in the top 10 for Division 1 at the MHSAA, which is awesome. In the OAA, as a whole, we're ranked third, in the Red division we're ranked third and in Oakland County we're ranked fifth," Kornburger said.
"Being in the highest division, you're swimming with the best of the best and a lot of these teams have anywhere from 30 to 60 girls on the team whereas my team is relatively smaller, I have 29 athletes total. So, we're by far the smallest in numbers but our times don't correlate with that – we're swimming very well for how small our team is," the coach said.
Kornburger attributes much of the team's success to strong performances across the board, with all grade levels contributing to meet scores. This could also have to do with the strength as a team when it comes to team bonding.
"I believe that it's just a good group of girls. A lot of them have been swimming with each other in middle school and even elementary school so they kind of have a close-knit relationship. That's something that I've tried to build with my team over the past few years; trying to bring in that team culture and really work on positively motivating each other and working and striving toward a common goal," Kornburger said.
Kornburger is in her third year as head coach of the team and has a new assistant coach this season, Syriah Dobis. John Pearson also continues as the dive coach for the team.
Kornburger and Dobis motivate the team through positive reinforcement, like raffles or the team's Dragon of the Week.
"It's nice having two female coaches on deck with female athletes. There's a good dynamic there and swimming is one of the most mentally grueling sports but we're trying to make it fun," said Kornburger.
The ladies are back in the pool for the start of league competition on Nov. 2 at Groves High School, where Kornburger hopes to see a few more swimmers qualify for the state meet.
"We're really trying to get as many (of our swimmers) as we can into the top 16 for every event. I'd love to see our relays dropping time," Kornburger said. "I'm trying to get another relay qualified so I can get a few more athletes to attend the state meet, that's one of my goals heading into this meet. Another goal is to see as many state qualifiers as we can. Right now, we have four girls qualified, two as individuals."
Rhodes and Potter have qualified for the meet as individuals. The 400 and 200 freestyle relay teams of Rhodes, Waller, Hernandez and Potter have also qualified for the state meet.