UPDATE: The Orion Goodfellows Stuff the Boot Drive will take place as scheduled.
Firefighters to sell Lake Orion Review newspapers during fundraiser
By Jim Newell
Review Editor
Sometimes, Santa doesn't wear a red outfit with fluffy white trim.
This year, as they have done for more than a half century, the Orion Township Firefighter Goodfellows will put on their fire gear and share the Santa role with Kris Kringle.
On Saturday, the Goodfellows, for the 55th year, will hold their Stuff the Boot drive, taking donations in a firefighter boot to raise funds for their annual Christmas program.
The firefighters will also sell special editions of The Lake Orion Review to aid in the drive.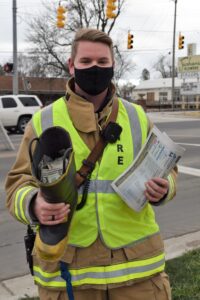 The Goodfellows will be at M-24 and Odanah and Heights roads near the Orion Veterans Memorial beginning at 8 a.m. and will stay into the afternoon, said Captain Eric Florence, president of the Orion Goodfellows, who organizes the Stuff the Boot drive.
The fire department's ladder truck with a huge American flag flying in the breeze, will be at the site so the area will be easy to spot for anyone who would like to donate.
The Goodfellows typically try to help between 20-30 families each Christmas, depending on donations.
"We don't have a specific number of families yet but we're hoping to help around 20 or more," Florence said.
The Christmas baskets usually contain a holiday dinner, presents for the kids and food for a family for up to a week.
Families who need a little extra help over the holidays are typically identified through community organizations, word-of-mouth or through recommendations from Lake Orion schools.
Families who could use support from the Goodfellows this year can contact the Goodfellows through their Facebook page, facebook.com/OrionGoodfellows, or email Capt. Eric Florence at eflorence@oriontownship.org.
The Goodfellows motto is 'No kid without a Christmas,'" Florence said.
Usually, after collecting monetary, food and toy donations, and then shopping for additional gifts and food needed to fill their Christmas baskets, the firefighters and their families and friends meet to organize, pack and deliver the baskets on Christmas Eve.
Anyone who would like to donate to the Goodfellows can make checks out to Orion Firefighter Goodfellows and mail to 3130 W. Clarkston Rd., Lake Orion, MI 48362.
"Or they can contact us through the Facebook page or email and we'll come pick it up from them," Florence said.
The Lake Orion Review staff offer our most heartfelt gratitude and holiday cheers to the Goodfellows for their continued commitment to the Orion community.