New elementary building to open in the fall
By Megan Kelley
Review Writer
LAKE ORION — Dozens of current and past residents of Lake Orion gathered at Blanche Sims Elementary School over the weekend to reminisce and say goodbye to the almost 73-year-old facility.
In attendance were many former and current students and staff, several LOCS school board members, LOCS Superintendent Ben Kirby and Assistant Superintendent of Teaching and Learning Heidi Mercer as well as current principal Ken Nuss, former principal from 2001-2008 Eric Whitney and Dr. Janet Burns, former principal from 1990-1996.
"To me, as the current principal, Blanche Sims means community. When I first think of Blanche Sims I think of community and a true neighborhood school. The fact that all of you are here, you probably have some of that same sense of community and the sense that we're a true neighborhood school. We have a tremendous sense of community and togetherness. I think that's been a constant throughout the years," Nuss said. "Our Blanche Sims kids love our school; they view it as their happy place. Thanks to the voters who passed the bond back in (2018). We are very thankful that we are able to continue on the legacy of Blanche Sims with building this. Hopefully, later on, toward the fall we can have an open house and a chance for people to visit and see the new Blanche Sims. The legacy for Blanche Sims will continue on at the highest level just as we do in all of Lake Orion."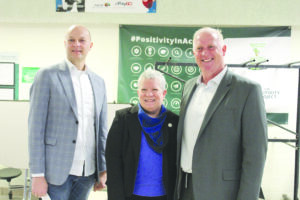 Whitney and Burns remembered some of the times they had while at the school, such as Whitney doing a clam chowder slip and slide on the newly built stage, or Burns leading the Halloween parade through the streets of downtown Lake Orion.
"One of my most memorable moments was doing a lot of service projects. The staff was very creative, very adaptable. One of the things I remember was when a parent was working for Paws with a Cause, it was during March is Reading Month and she was a trainer for service dogs. She came to me and said, 'I would like to teach the kids about service dogs, therapy dogs, are you interested?' and I said, 'of course.' So, she came and taught on that, then she presented us with a puppy, a yellow lab puppy named Bruno, which the kids raised in our school. They read to Bruno, they read to other people and they collected donations for his training," Burns said. "At the end of the year, Bruno came back to this school along with his caregiver who was able to share some of the experiences that he had learned in training and (there wasn't) a dry eye in the house."
School board Trustee Scott Taylor, who was a part of the school's 1979 Kindergarten class also spoke about his time as a student there and what the school means to him.
"In 1984, we were in fifth grade…and the Tigers won the World Series. My best friend who I met here in Kindergarten, Nathan Butki, they were at the final game when they tore up Tiger stadium and he brought home a piece of grass and on Monday morning, we went outside – our teacher was Mrs. Wojakowski, and we went outside because wanted to plant that grass at Blanche Sims because we wanted it to live on. She took the whole class outside, dug up a piece of grass and put it there," Taylor said. "That's how much this place meant to us."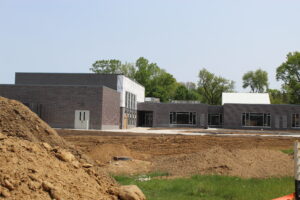 Visitors also had the opportunity to roam the halls, tour the building and visit some classrooms to remember the times they had at the school.
The Blanche Sims facility was built in 1949, named after a longtime school teacher in Lake Orion, and was officially opened the following year. Over the years, the building has had additions like the front office and cafeteria/auditorium.
In 2018, Lake Orion voters passed a $160 million school bond which included several large construction projects, the biggest being constructing a new Blanche Sims facility on the same lot that the old facility is currently located on.
The new building is slated to wrap up construction over the summer and for the beginning of the 2023-24 school year. The old building is also expected to be demolished this summer.