By Jim Newell
Managing Editor
ORION TWP. — The Double-O Trophy will stay in Lake Orion for another year after the Dragons defeated the Oxford Wildcats 38-14 Friday at Dragon Stadium.
The Dragons are now 3-0 (1-0 OAA Red) on the season, while Oxford falls to 1-2 (0-1 OAA Red).
After both teams punted on their first possessions, the Wildcats marched 93 yards downfield over seven plays to get on the scoreboard first when running back Luke Johnson broke through the Dragon's defense for a 56-yard run to put Oxford up 6-0 with 4:53 left in the first quarter.
The point after touchdown (PAT) was good, giving the Wildcats the early 7-0 lead.
The Dragons only took 32 seconds to answer, with running back Billy Roberson leaving the Wildcats lagging behind as he sprinted 74 yards for yards for a touchdown on the second play of the next drive.
On Oxford's next offensive drive, Johnson again had a long run, making it to the Lake Orion three-yard line before being knocked out of bounds. With 2:35 left in the first quarter, Johnson barreled through the Dragon defense to get his second touchdown of the night. The PAT was good and the Wildcats took the lead, 14-7.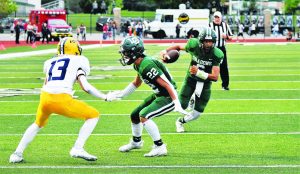 In the second quarter, Lake Orion marched down field and with 9:17 left, quarterback Tristan Hill broke free from a Wildcat defender and rushed five yards into the endzone. The PAT was good, tying the game at 14.
It looked like it was going to be a back-and-forth between the Lake Orion and Oxford offenses, but from then on the Dragon defense held up and it was all Lake Orion.
Lake Orion wide receiver Dom Novak got a touchdown off a 42-yard pass from Hill with 5:02 left in the second quarter to give the Dragons the 21-14 lead after the PAT.
With 12 seconds left in the first half, Oxford missed a field goal attempt and the team went into halftime with Lake Orion up by seven.
With 7:34 left in the third quarter, Hill added another touchdown to put the Dragons up 28-14. Kicker Will Hoffman made a field goal with 1:42 left in the third giving Lake Orion a 31-14 lead
Senior slotback Raymond Payne added a fourth-quarter touchdown to finish the Dragons' scoring.
The Dragons defense held Oxford to three first downs and 47 total yards of offense over the last three quarters of the game.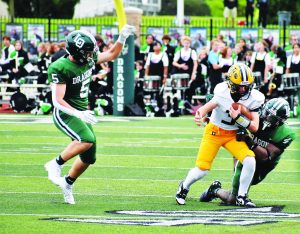 Lake Orion had 440 yards of total offense, with 352 rushing yards and 88 passing yards
Hill was 6-for-11 passing for 88 yards and one passing touchdown. He also had nine carries for 70 yards and two touchdowns.
Roberson had 21 carries for 189 yards and a touchdown.
Oxford had 230 yards of total offense, with 179 rushing yards and 51 passing yards
Johnson ran the ball 13 times, good for 176 yards and two touchdowns.
Quarterback Jack Hendrix was 4-for-11, passing for 51 yards, while wide receiver Brody Moore had two catches for a total of 24 yards.
Lake Orion takes on the West Bloomfield Lakers at 7 p.m. Friday at Dragon Stadium. West Bloomfield is 3-0 (1-0 OAA Red) and is coming off of a 40-33 win over Stoney Creek on Friday.
Oxford travels to Adams High School on Friday to take on the Highlanders (2-1, 0-1 OAA Red), who lost 28-7 to Clarkston on Friday.