By Jim Newell
Review Editor
Cub Scouts in Pack 512 from Carpenter Elementary had their sights set on the checkered flag during the pack's annual Pinewood Derby race on Saturday at Good Shepherd Lutheran Church.
Cubmaster Diane Youngpeter said there are 46 kids, boys and girls, from kindergarten – 5th grade in Pack 512 this year – and all were raring to go for the Pinewood Derby.
"They are super excited. It's an event that the kids look forward to every year. And it's really fun, especially seeing the little Lions because it's their very first year," Youngpeter said.
The scouts got their car kits last month and then went to work designing, shaping and painting their new, tricked out cars. Some were painted with flames. There were police cars, a Ghostbuster mobile and one enterprising designer added LEGOs to his car.
Second-grader Nathan Watt, a Wolf in the pack, was the grand champion, winning the final heat with the overall fastest car. When Nathan heard he was in the finals he said, "Oh, snap. I could win this!"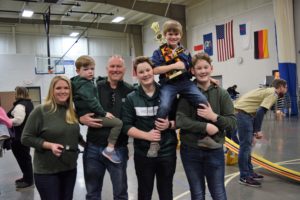 In true racing fashion, his older brothers carried him on their shoulders after Nathan got his trophy.
The top three finishers in each den in the pack received first through third place trophies and everyone got a medal. There also were awards for the cars with the creative design and the most scout-like design.
Pinewood Derby results:
Lions Den: 1st place, Lukas Pagot; 2nd place, Rachel Youngpeter; 3rd place Peter Firis.
Tiger Den: 1st place, Gabriella Gravel; 2nd place Alexander Kaiser; 3rd place Blake Bonam.
Wolf Den: 1st place Sean Kirklin; 2nd place Brennan Drake; 3rd place Mason Silhavy.
Bear Den: 1st place, Aiden Natavio; 2nd place Cooper Phillips; 3rd place Ethan Lewandowski.
Webelos: 1st place, Hawke Guldi; 2nd place, Ian Schwartz; 3rd place, Joey Belanger.
Most creative car design: 1st place, Cooper Eltringham; 2nd place, Ian Schwartz; 3rd place, Peter Firis.
Most Scout-like car design: 1st place, Cooper Phillips, 2nd Place, Alexander Baier; 3rd place, Nicholas Baier.
Siblings: 1st place, Evelyn Schwartz; 2nd place, Vanessa Lewandowski; 3rd place, Sophia Baier.