By Jim Newell
Review Staff Writer
Two new names took places of honor at the Lake Orion Veterans Memorial, joining the ranks of their brothers-in-arms during a special ceremony paying tribute to their service to the nation.
James A. Parkhurst and the late Alan C. Hart had commemorative stones installed on Friday as fellow veterans, family and friends expressed their gratitude.
For Alana Hart, it was a bittersweet tribute: her father, Alan, passed away Sept. 22.
For Sgt. James Parkhurst, U.S. Army 1966-68, 6th Battalion, 12th Artillery, the tribute came as a surprise.
Parkhurst had been told that the veterans were placing a stone to honor a comrade. He was asked to help with the stone tile, but when he removed the covering he saw that the tile bore his name and military service.
"Thanks, everyone, I wasn't expecting this. It means a lot to have that out here for everyone to see," Parkhurst said.
Parkhurst has been supportive of the Veterans Memorial and volunteered his time and effort in completing the project.
"We are so proud to have him as a member," said Dr. Joe Mastromatteo, president of the Veterans Memorial Board.
Mastromatteo said the Veterans Memorial Board unanimously approved the memorial stone for Parkhurst. "It is our gift of thanks for all he's done," said Mastromatteo.
Parkhurst was born in Lake Orion and worked in the Department of Public Works at Orion Twp. for 20 years. He moved to Oxford when he was young and is a member of the American Legion Post 108 in Oxford.
VFW 334 member Gary Thede (Vietnam 1968) praised Parkhurst for his military service and commitment to helping with the Veterans Memorial. "He's a great addition to our memorial."
"It's just a matter of doing things to give back to the community. That's what veterans do," said Parkhurst, a 2005 Oxford Citizen of the Year.
Alan Hart, a U.S. Army veteran Sp 5, served in Vietnam from 1968-1970. His daughter, Alana, had a commemorative stone installed at the memorial.
"My dad never wanted to be recognized for his service but I wanted to have something done to honor him for his service," Hart said. "He was cremated so I wanted to have someplace special to go to remember him."
Alana said her father, an Auburn Hills resident, owned Alan C. Hart Tree Service for decades and was well-known throughout the area.
"He was an amazing Arborist. He loved the outdoors, he loved nature and watching things grow.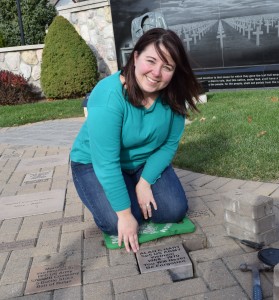 "He never talked about Vietnam. The only time he talked about it was to describe a photo he had taken," she said.
Alan Hart was in intelligence during the war, moving information from base to base.
As an amateur photographer, he took photos of the landscapes and non-combat sites, which he shared after the war.
"This memorial is really special to me. I just think we're really lucky in Lake Orion to have something like this," Hart said.