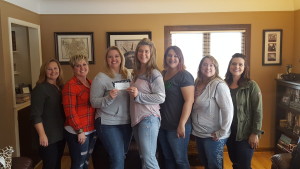 Being an active part in one's community is a gift. Love n' Light Productions is grateful to ALL the wonderful sponsors who helped make this $1,000 donation possible to The Daisy Project – Michigan.
It takes a village! I also want to thank my family for all their love, help and support; they made the machine run. Thank you to our community for showing up and participating in both events.
The Event Before The Event: Love n' Light, was a stellar evening full of music, food and fun. We had a fantastic silent auction which was made possible by many local businesses!
And The Tender Turtle 5K, which we will have again next year. Mark your calendars for Oct. 12, 2019. The family friendly event is a 1 mile walk/run/roll with an all-inclusive route and the 5K.
It is my hope that all the elementary schools in our district and surrounding districts would organize teams to demonstrate Kids Helping Kids. Perhaps local businesses could also create teams. With each year, I hope the Tender Turtle 5K will grow.
The money raised by Love n' Light Productions will help make inclusion/accessibility improvements at Camp Agawam.
Giving back to our Lake Orion community is what it is all about. I love my community. I am the change I want to see. Teaching our youth that one person can make a difference. Demonstrating by action that we collectively can help others and make a better community for us all to enjoy.
The Tender Turtle series' main theme is based on family values: Be kind, be helpful and love thy neighbor. Our message is simple: See it! Believe it! Achieve it!
For more information on Love n' Light Productions and The Tender Turtle series, visit www.lovenlightproductions.com; also available at the new Made in Michigan Market at Canterbury Village.
Amy Silvester
Orion Twp.
Tender Turtle series author and
Lake Orion community supporter