By C.J. Carnacchio
Oxford Leader Editor
Oxford resident James Allen Sherman Sr. wore many hats during the course of his lengthy career.
He was a successful publisher for 38 years. He was a wordsmith. He was a shrewd businessman. He was a devoted community leader. He was an enthusiastic supporter of worthy causes.
Sherman was all of these things and more, but he never saw himself as anything other than an old-fashioned newspaperman, plain and simple.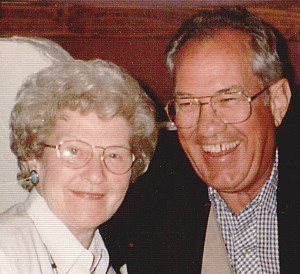 On Saturday, Feb. 16, 2019, the founder of Sherman Publications, Inc. (SPI) passed away at Independence Village of Waterstone in Oxford. He was 92.
Nicknamed "Big Jim," the 6-foot-4-inch Sherman was well-known and respected in north Oakland County for having established a prosperous chain of publications that continues to serve Oxford, Lake Orion, Clarkston and Brandon/Ortonville with a combination of local news and advertising.
"Icon" was the word that Oxford resident Mickey Hiatt used to describe his dear friend of 40 years. He believes north Oakland's communities owe Sherman a debt of gratitude for creating strong weekly newspapers that report on and reflect every aspect of local life.
"I think our community papers are more valuable today than they ever were. They're the backbone of the community," Hiatt said. "I think (Sherman) did a fantastic job for the paper(s). I really do."
Bob Holt, a longtime friend and the associate pastor of LakePoint Community Church in Oxford, characterized Sherman as "a newspaper guy" through and through.
"He told it straight. He said what he thought," Holt said. "He didn't mince words. He didn't beat around the bush. He didn't like dishonesty. He didn't like somebody trying to pull the wool over his eyes. If you were straightforward with him, he was that way with you and you'd get along fine."
Holt noted that beneath the "tough exterior (Sherman) had to have to be a newspaperman" beat "a heart of gold."
"He was a pillar of the community for a lot of years," Holt said.
Longtime friend and former Oxford Bank President Jeff Davidson saw Sherman as a man with "tremendous integrity."
"He always had your back," he said. "You knew he was always there for you."
Davidson said Sherman could have a different opinion from others and passionately argue his point, but at the end of the day, he was able to set his feelings aside and never let them interfere with friendships or business.
"That's just the sign of a good leader," he said.
SPI Assistant Publisher Don Rush thinks very highly of Sherman as a boss, a person and a friend. Rush will always be grateful to the former publisher for hiring him as a reporter straight out of college almost 34 years ago.
"Mr. Sherman was a generous and kind man," he said. "He gave to his family, his community, his industry and employees – and not just monetarily. He was quick with a smile, to tell a bad joke, (to give) words of encouragement and counsel if asked. Good mentor. Good man."
Rush expressed more of his thoughts, feelings and memories about Sherman in his column, "Don't Rush Me," on Page 7.
Sherman's career in the newspaper business began in January 1951 when he took a job in sales at the Gladwin County Record.
Six months later, Sherman, who studied journalism at Michigan State College (now University), went to work as a salesman and sports writer for the Clinton County Republican-News in St. Johns.
He made the big leap from employee to owner when he purchased his first newspaper in 1955, the Oxford Leader. Sherman served as its publisher until his retirement in 1993.
Moving to Oxford wasn't a huge adjustment for Sherman because he had spent most of his life growing and learning in small towns.
He was born in Owosso on Aug. 10, 1926 to parents Dair and Clara Sherman. Growing up, Sherman's family moved around a lot as his father worked for the Grand Trunk Western Railroad. This gave Sherman an opportunity to experience other small communities in Shiawassee County, including Laingsburg, Bancroft, Morrice, Durand and Vernon. He graduated from Vernon High School, the salutatorian in a class of just nine students.
"I'm a small-town boy," proclaimed Sherman in a November 2011 story the Leader published about him being named grand marshal of Oxford's Christmas parade.
In that article, Sherman explained why he never had any desire to move to the big city and compete amongst the daily newspapers that once dominated the concrete jungle.
"I'm afraid of failure," he admitted with his usual frankness. "I always felt more secure in smaller communities. I had more confidence. There was more opportunity to succeed here."
When Sherman landed in Oxford, he discovered a community that was experiencing a changing of the guard.
He became part of the rising generation of entrepreneurs who were buying businesses and breathing new life into the local economy. These men related well to each other because they were all around the same age and many, including Sherman, were World War II veterans who were chasing the American dream that they had fought so hard to protect.
Sherman forged friendships with them and soon, he was among a group of prominent local businessmen who met for coffee every day at 9 a.m. As time passed, he maintained the friendships, but dropped the coffee date.
"I quit that because it was the middle of the morning – there was work to be done," he said in the 2011 interview.
Sherman found success owning the Leader and that success, coupled with his willingness to embrace changing printing technology, enabled him to acquire more weekly newspapers over the next two decades. He purchased the Clarkston News in 1966, the Lake Orion Review in 1972 and the Davison Index in 1976. SPI still owns and operates all of them with the exception of the Index.
During the 1980s, he also founded and published the now-defunct Auburn Argus in Auburn Hills.
In addition to newspapers, Sherman founded two weekly shoppers, the Ad-Vertiser in 1961 and the Penny Stretcher in 1982.
Hiatt attributed Sherman's success, both professionally and personally, to the fact that he was "a good listener," who was "totally trustworthy and very caring" when it came to dealing with others.
Always by his side helping him run the business was Hazel, Sherman's devoted wife of 51 years. The two were married at Lennon Methodist Church on Oct. 22, 1949. Hazel began working at the Leader office in 1957 and continued to help keep things running smoothly until her death in February 2001.
Today, Sherman's three children – Jim Sherman Jr., Luan Offer and Susan Speed – oversee the day-to-day operations of SPI and ensure their parents' legacy lives on.
Hiatt noted that Sherman was "definitely a family man" and that interest in family extended well beyond the little platoon in his own house.
"When he makes friends, he makes friends with (your) whole family," Hiatt said.
Davidson said that was especially true with him and his siblings. After his father passed away, Davidson said Sherman stepped in to fill the void.
"Jim was always watching out for us as if we were his own kids," he said. "His friendship was the definition of friendship. He's there for you whenever you need him . . . Sometimes you need a male figurehead to bounce things off of and I could call him. He would call me and ask how I was doing . . . He had a sincere interest in what was going on in your life."
Sherman once put in a good word for Davidson and that simple gesture led to his 25-year career as an executive for Oxford Bank.
"I certainly am forever grateful to him," Davidson said.
Even though he formally retired in March 1993, Sherman couldn't stay away from the newspaper business completely. Ink was in his veins, so he continued to pen the popular column entitled "Jim's Jottings," which he started writing in the 1950s. It ran in all of the SPI newspapers until just a few years ago.
Sherman used his column space on Page 7 to express his thoughts on so many different topics, including politics, his family and friends, his late dog Shayna, life in the good old days, doctors, aging, golf, hunting and fishing, the fallibility of intellectuals and elites, the loss of common sense, the state of journalism, sports, television and the food he loved most, bacon.
His view of the world and the people around him never failed to evoke a reaction from readers. Sherman's tell-it-like-it-is style was such that he could entertain, infuriate, inform and bring a tear to the eye – sometimes all in the same column. His biting humor and wry wit gained him fans of all ages.
"He had a great sarcastic sense of humor," Holt said. "The more you gave it to him, the more he gave it back, and the more you liked each other. He and I hit it off really well right from the beginning."
"I think everybody still misses Jim's Jottings," Hiatt said. "He was just himself. (He was a) big, strong, strapping guy who liked the outdoors. He liked golf. He liked snowmobiling. He liked fishing."
Sherman got to know many of his fellow newspaper owners by serving on the Michigan Press Association (MPA) board from 1971-81. In 1980, he presided over the board as president.
From 1981 to 2019, Sherman served on the board of the MPA's nonprofit foundation that helps advance community journalism with scholarship and internship programs. He was secretary/treasurer in 1981, a trustee from 1982-84, president from 1985-88 and vice president from 1989 to 2002. Sherman was trustee emeritus from 2003-19.
Sherman was a strong believer in serving the community that had enabled him to support his family and build a good life. That's why he became involved in a number of local groups.
Over the years, he served as president of the Rotary Club of Oxford as well as the Oxford Chamber of Commerce. He remained an honorary Rotarian for the remainder of his life. The clubs in both Oxford and Clarkston honored him as a Paul Harris Fellow.
He chaired the Oxford Township Parks and Recreation Committee and served on the boards of directors for both Oxford Bank and the Dominican Sisters' short-lived DeLima Junior College.
As a U.S. Navy veteran who served from 1944-46, Sherman had life memberships in the American Legion and Veterans of Foreign Wars.
During the war, he served aboard an amphibious cargo ship that delivered troops, equipment and supplies to islands in the Pacific Theater of Operations.
He was also an early supporter and life member of the Northeast Oakland Historical Society.
Sherman is survived by his children Jim (Linda) Sherman, Luan (Robert) Offer and Susan (Tim) Speed; grandchildren Daniel (Alexandria) Offer, Karen Offer and Savannah, Trevor and Haley Speed; and great granddaughter Adalyn Offer. There are no surviving siblings.
Visitation and funeral service will be held at Modetz Funeral Homes Silverbell Chapel, 100 E. Silverbell Rd., in Orion Township.
Visitation will be from 4 to 8 p.m. on Wednesday, Feb. 20 and again from 10 to 11 a.m. on Thursday, Feb. 21. A funeral service will be held at 11 a.m. on Feb. 21.
The family asks that memorial contributions be made to the Northeast Oakland Historical Society and the Rotary Club of Oxford.