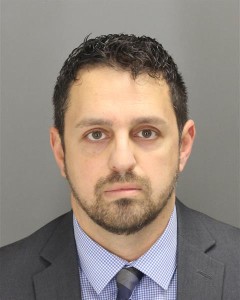 *See the Feb. 7, 2018 print edition of The Lake Orion Review for more on this developing story.
By Jim Newell
Review Editor
Orion Township Trustee Ron Sliwinski has been charged with misdemeanor assault and battery after an investigation by the Oakland County Sheriff's Office and case review by the Oakland County Prosecutor's Office.
Ronald Craig Sliwinski, 40, of Orion Township was arrested and then booked at 1:17 p.m. Jan. 30.
He was arraigned on one count of assault and battery before Magistrate Marie Soma in the 52nd District Court, Division 3 in Rochester Hills and received a $2,000 personal bond on Jan. 30, said Undersheriff Mike McCabe of the OCSO.
Sliwinski's next court date is a pre-trial hearing before Judge Julie Nicholson at 8:30 a.m. Feb. 28 in the 52-3 District Court.
Under the terms of the arraignment bond, Sliwinski is to have no contact with the person he is accused of assaulting. A 52-3 District Court officer confirmed the pre-trial and bond information.
If convicted, Sliwinski could face up to 93 days in jail, up to $500 in fines, or both, according to Michigan Penal Code 750.81.
Orion Township Supervisor Chris Barnett said he and the township board are aware of the charges against Sliwinski.
"It's disappointing to see. Since we received the letter in November, I've encouraged our board to stay focused on the many issues facing the township. The allegations in November were serious enough for us to forward it to the state Attorney General's Office for review. At this time, I really don't want to say more until the township board consults with our attorney," Barnett said.
On Nov. 6, 2017 an unknown person sent 44 envelopes addressed to Orion Township Hall staff, each envelope containing an unsigned statement and copies of emails accusing Sliwinski of sexually harassing a female teacher at Lake Orion High School.
The emails exchanges, dated May 2, 2017, are between a married teacher who said the harassment had gone on for years, and, according to the documents, included unwanted physical touching, vulgar gestures and inappropriate comments about the teacher's appearance and sex life.
The Lake Orion Review did reach out to Sliwinski and the teacher he is accused of harassing but have not yet received a response from either party.
Sliwinski is a former special education teacher at Lake Orion High School and also was the JV football coach. He was elected as an Orion Township trustee in November 2016 while still employed with Lake Orion schools.
McCabe said the Oakland County Sheriff's Office had received a complaint against Sliwinski at the Orion Township Substation in November. "A complaint has been filed. We do have an ongoing investigation."
The investigation was turned over to the Sheriff's Special Investigations Unit, the Major Crimes and Professional Standards unit of the Oakland County Sheriff's Office. The SIU consists of six detective sergeants who investigate cases ranging from major crimes to internal affairs.
"Whenever anything occurs at one of our substations that could present a conflict, we bring it downtown," McCabe said.
After the investigation, McCabe said the sheriff's office turned the case over to the county prosecutor's office for review.
Township administrators sent a notice the day after receiving the allegations against Sliwinski to all township employees regarding the documents and sexual harassment in general, saying that the township does not condone harassment in the workplace and that employees were encouraged to come forward if they felt like they had been harassed at any time.
Lake Orion Community Schools Superintendent Marion Ginopolis said in November that she could not violate employee confidentiality laws by commenting on any employee-related issue, but released a statement to The Lake Orion Review:
"Ron Sliwinski resigned from his employment with the District on June 6, 2017. Personnel issues are classified as confidential for all employees and the District cannot disclose any information or confirm if allegations you received from an anonymous source are true or not."
When contacted for this article, Ginopolis referred The Review to her previous statement.
The Orion Township Board of Trustees, during a special meeting on Nov. 15, voted to refer the sexual harassment allegations against Sliwinski to the state Attorney General's Office for review.
The township board is limited in any action it can take against an elected official accused of misconduct – without charges being filed, or a conviction.
Barnett said a township board cannot compel or force an elected official to resign.
"One (option) would be that the person could voluntarily resign from a position. It is a potential that we could refer this to the (state) Attorney General's office and they could weigh in. The governor has the power to remove an elected official in the state of Michigan from office. And then, finally, a recall election," Barnett said.