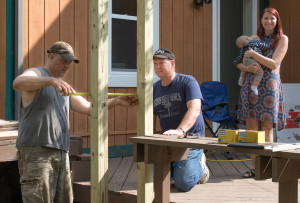 By Susan Carroll
Review Writer
Only in Lake Orion would you find two off- duty police officers repairing a damaged porch for a homeowner.
Three weeks ago, the Biton's received the keys to their new home on Algene Road: the same day that someone ran into their back porch with a car.
The Lake Orion Police Association stepped in and took care of the situation.
"We didn't want the new homeowners to have to deal with the hassle of moving in and getting the porch repaired. The Lake Orion Police Association is actively involved in the community, we participate in events like the Kids' & Kops and Shop with a Hero. Getting involved is just what we do in the community," said Lt. Harold Rossman.
Rossman made arrangements with the woman — who previously lived at the home -and caused the damage — to purchase the materials and he and other police officers would do the repairs at no charge.
That agreement was fulfilled on August 11 by Lt. Rossman and reserve officer Frank Scarpaci. Now the Bitons have a porch that they can sit out on and enjoy the beauty of their backyard.
The new residents, Julien and Ivette Biton, relocated to Rochester Hills from France in 2014. They moved to Lake Orion just last weekend.
"This is our first house. We wanted a nice area with good schools and that's why we moved here (to Lake Orion)," said Ivette while holding her only child, 5-month-old Gabriel.
"We started moving in last weekend and this is just so nice. We really like it here," she said.