Those of you driving by the McDonald's on M-24 near Atwater Street Monday evening may have gotten your hopes up that the restaurant was open for business.
Not quite. But close.
The McDonald's reopens on Tuesday, with the drive-thru opening at 5 a.m. and the dining room opening at 6 a.m.
Monday night's event was a VIP invitational to show off the new building and amenities, including a touch screen menu kiosk where patrons can place their own orders instead of waiting in line, an upgraded kitchen and food preparation area and new dining room with more spacious, comfortable seating and inviting decor.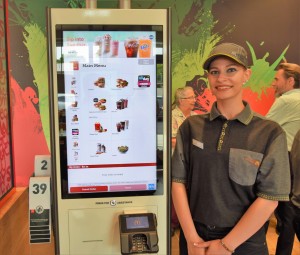 VFW Post 334 held an Honor Guard ceremony, presenting McDonald's General Manager Patty Horton with an American Flag that will fly at the restaurant.
For the full story and more photos check out this week's edition of The Lake Orion Review.