By Jim Newell
Review Editor
Real Men…dye their beards pink.
At least they do to support their mothers, sisters, wives, daughters, friends and colleagues who have, or may be, affected by breast cancer.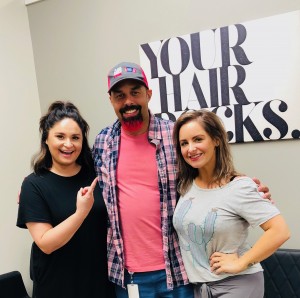 Garrett Hoffman is an ambassador for Oakland County's Real Men Wear Pink, part of the American Cancer Society's programs to raise awareness about breast cancer, and funds to help combat the disease.
October is national breast cancer awareness month, but Hoffman got started on his campaign early and has already raised more than $3,200 in donations. Real Men Wear Pink ambassadors pledge to raise money for the American Cancer Society, but also to raise awareness by attending events, speaking in support of breast cancer research and wearing somethings pink every day during the campaign.
"I've done events in the past and I have family members that have battled cancer – some, they've lost their battle, or have won their battle. So, it definitely hits me in the heart and I felt obligated to do my part and show my kids that life is bigger than just our lives," Hoffman said.
Matt Pfeiffer, last year's Real Men Wear Pink ambassador for Lake Orion, raised more than $15,000. Pfeiffer nominated Hoffman for this year's campaign.
"I nominated Garrett because when I met Garrett he was immediately very involved in our community. I also like that Garrett's a very outgoing guy. He's been known to dress up from head to toe in red, white and blue for events. I thought that was the perfect combination of heart and energy to be an ambassador for Real Men Wear Pink," Pfeiffer said.
To donate to Hoffman's Real Men Wear Pink efforts, go to http://main.acsevents.org/goto/GarrettHoffman.
Hoffman also has a uniquely fitting Facebook page, so fans can follow his journey through the campaign. Visit it at www.facebook.com/MrLakeOrion.
"All I'm asking is: donate, share and repeat, pretty much. Not only do I make posts (online) and ask for donations, but I like to put information about breast cancer and make sure people are aware, so they can look for that information, too," Hoffman said.
And why dye his beard pink?
"I got challenged from Phillips Security to dye my beard pink as long as I hit $2,500," Hoffman said, adding he'll keep his beard pink "at least until Halloween."
Lauren Knapp, owner of The Fringe Salon where Hoffman got his beard dyed pink, is a longtime friend and was eager to help.
"I think it's for a great cause and if anyone can pull off pink it would be Garrett," said Knapp. "I wish more men would do something like this. And I can't wait for him to reach five grand so we can do his hair. That's the deal."
Hoffman said he has other ideas to raise awareness about breast cancer but didn't want to spoil the surprises. "I have some other neat little things I'm going to do, but I'm not ready to reveal them yet. Just keep on watching."
Pfeiffer is working this year as a mentor, speaking at events and helping the 'Real Men' with advice on fundraising ideas and to motivate them. He also nominated Dave Petoskey, a Rochester Hills resident.
"I let Julie Featherstone (with the American Cancer Society) know that I though they would be numbers one and two at the end of the year. And as of now, they are – I wouldn't be surprised if one or both of them beat me," Pfeiffer said.
"We talked about some of the things he did and ideas. He's been a great guide and mentor," Hoffman said.
Every dollar raised helps the American Cancer Society save lives from breast cancer through early detection and prevention, innovative breast cancer research, and patient support, according to the American Cancer Society