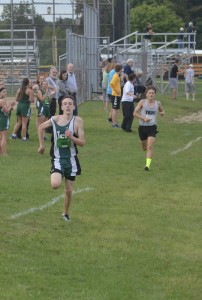 The Lake Orion High School men's cross country team has started the season with two 4th place finishes and Head Coach Stan Ford believes the team will have another strong season.
"This year's Dragon team is characterized by having two top runners who are capable of running in the front of the pack, and then a mix of returning veterans, along with a host of talented freshmen," said Head Coach Stan Ford.
"Junior Andrew Nolan and senior Ryan Mulcahy are coming in with the experience and talent to do just that. Both were all league last year and Andrew also earned all-state honors in 2017. And with a good summer of training behind them, they will be fun to watch," Ford said.
The Dragon pack is comprised of seniors Justin Keppler and Brett Earnest, along with freshman Hong Bing Tang and Evan Waters.
A strong freshman class also includes Adam Hafeli, Jacob Gleason and Clayton Kuiper. Other varsity contributors are seniors Nicholas Wolf and Sam Knight, along with junior Willie Houser, Ford said.
Lake Orion took 4th place at the Oakland University Golden Grizzly Invitational on Aug. 31.
Junior Andrew Nolan took 2nd place and senior Ryan Mulcahy finished in 8th place, medaling and running well to lead the way for the Dragons.
Freshman Hong Bing Tang, seniors Justin Keppler and Brett Earnest rounded out the Dragon scoring. Freshman Evan Waters, Adam Hafeli and Jacob Gleason made their first appearances in a varsity race, Ford said.
The Dragons also took fourth place in the OAA Jamboree I at Troy High School on Aug. 7.
Nolan came from behind to capture 1st place, followed by Mulcahy in 5th. Tang finished 20th, Keppler 26th place and Earnest in 29th place, rounding out the Dragon scoring.
Waters, Gleason, Kuiper and Houser also ran for the varsity team at the Jamboree.
The team's next invitational is at 10 a.m. Sept. 15 at Springfield Oaks County Park, 12451 Andersonville Rd., in Springfield Twp.
Lake Orion hosts Jamboree 2 of the season at 4:30 p.m. Sept. 25 at Lake Orion High School, 495 E. Scripps Rd.
For a complete team schedule, visit www.lodragonsports.com.