By Jim Newell
Review Editor
At the beginning of every season the Lake Orion varsity hockey team sets its sights on winning the OAA Red division, a goal that, like last year, can go down to the final league game.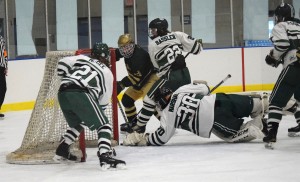 The Dragons are two-time defending league champs, and new Head Coach Adam Krefski hopes to steer the team toward another title and a playoff run.
The team is currently 3-2 overall and 2-0 in the OAA Red division.
"The team is doing well. We are starting to come together. I know it's hard with a new voice behind the bench, but the kids seem to be buying in early to new concepts," Krefski said. Kevin Albers and Ian Smith are Krefski's assistant coaches.
The Dragon's opened the season with a 3-2 win over league rival Troy on Nov. 15, and a 5-2 victory over Berkley on Nov. 23. The team's two losses have come against non-conference opponents Alpena, 4-0, and Howell, 3-1.
"The team's strength is definitely our leadership. We have a large group of leaders on our team, not just the captains," Krefski said.
The coach notes that, among others, senior forward Lucas Barber, sophomore forward Kade Manzo, senior goalie Reid Marshall and senior defender Tyler Sutherland have all stepped up to take lead roles on the ice.
Barber and Manzo each have eight points (goals and assists) for Lake Orion, and the team as a whole is averaging 3.4 goals a game.
Marshall has an .884 save percentage through the first five games, facing 147 shots on goal, saving 130. Sophomore Lucas Haddad will back up Marshall in the net.
However, in a 3-1 loss to Howell on Thursday, Marshall faced 31 shots on goal, stopping 28, and in the Dragon's 8-6 victory over Jackson United on Saturday, Marshall faced 34 shots.
While the team is doing well, Krefski knows for the Dragons to continue their success, they'll have to work on some adjustments on both ends of the ice, keeping the pressure on their opponents and off their own goalie.
"We are focusing on improving on our D zone (defensive zone) and blocking shots. If we limit the amount of shots the other team takes, then we are helping our goalies out. We are also focusing on getting more shots on their net. Doing whatever we can to have second and third opportunities at rebounds," Krefski said.
Krefski and the players know competition in the OAA will be grueling, with quality teams once again challenging for the division title. Farmington United, for instance, is 6-1 overall.
"This year the OAA will be tough. Our toughest opponents will be Rochester United, Farmington United, Birmingham Unified and as always our rival, Clarkston," Krefski said. "We have two team goals: first is to win the OAA, and second is to win our last game. If we win our last game that means we have won a state title."
Three of Lake Orion's next six games heading into the winter break are against tough division opponents: Birmingham Unified at 7:45 p.m. Thursday; Farmington United at 7:45 p.m. Dec. 13; and Clarkston at 8 p.m. Dec. 22. All those games are at the Detroit Skating Club in Bloomfield Hills.
While this is Krefski's first year coaching the Dragons, he does have ties to the school. He's a Lake Orion grad and still lives in the community. He also has an impressive background on the ice that he brings to the Dragons this year.
"I played three years of junior hockey in the North American Hockey League and four years of college hockey at Lindenwood University, winning two national championships," Krefski said.