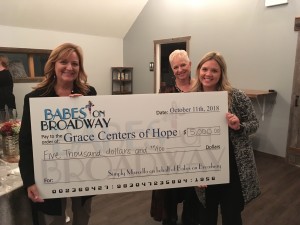 By Jim Newell
Review Editor
A little shopping, a lot of socializing, heaps of money raised for charity.
The ladies flocked to downtown Lake Orion on Thursday for the Babes on Broadway shopping extravaganza, touring local businesses and restaurants and raising $5,000 for Grace Centers of Hope.
Simply Marcella's, a ladies' fashion boutique on Broadway Street, sponsored Babes on Broadway, with co-hosts The Event Place and the Lake Orion Downtown Development Authority.
"It's a fantastic community event that helps to bring wonderful women to the village of downtown.  Even though there are many "repeaters", we also meet several ladies who often say they haven't been downtown in years so it's a great way to show off what Lake Orion has to offer.  It's also a fun-filled way to raise money for worthy causes like Grace Centers of Hope," said Marcella Costin, owner of Simply Marcella.
More than 20 Lake Orion businesses participated in this year's Babes on Broadway, with more than 200 women participating in the annual event, plus "drop-ins" who happened by the festivities, said Pam Belding, executive assistant at the Lake Orion DDA, adding that they sold 250 tickets for the event.
While Grace Centers of Hope was this year's charity, Babes on Broadway has supported several charities in the past.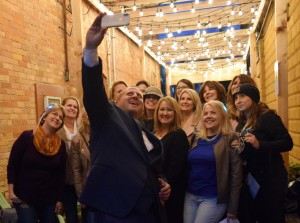 "We have decided to choose a different charity each year so multiple organizations can benefit from this event.  We chose Grace Centers of Hope because it is a program that affects a great number of people in a variety of  challenging situations," Costin said.
This year featured a special VIP soiree at Simply Marcella, complete with shopping, hors d'oeuvres and drinks, before the ladies visited the other participating shops and restaurants.
"Broadway Gents" held doors and escorted the ladies from shop to shop as they toured Lake Orion.
The evening culminated at The Event Place, with prize drawings and the presentation of the check for Grace Centers for Hope, "a non-profit, Christian organization committed to positively changing the lives of the unwanted, addicted and homeless through…accountability, life skills education and work-related programs," according to the Grace Centers of Hope website, www.gracecentersofhope.org.
For more information on Babes on Broadway and upcoming events, visit www.simplymarcella.com, and the Lake Orion DDA at www.downtownlakeorion.org.