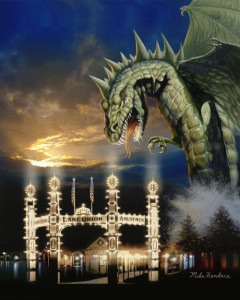 The Dragon on the Lake festival begins this weekend, with a full schedule of events for the entire family.
On Thursday, Dragon on the Lake festivities kick off with a family-friendly foam party tent in the parking lot next to Children's Park off of Anderson Street. The party is from 6-10 p.m., with tickets $15 at the door or $10 in advance online.
The Dragon Pub beer tent is at the Anderson Street location and opens at 6 p.m. Friday, noon – 11:30 p.m. Saturday, and noon – 7 p.m. Sunday.
Party on the Point is 6-9 p.m. Friday at Pelton's Point. Tickets are $50 per person.
Also on Friday, the lighted boat parade begins at 8:50 p.m. and movie night in Green's Park, featuring How to Train Your Dragon 2, begins at 9 p.m.
Downtown festival activities are 11 a.m. – 7 p.m. Saturday and 11 a.m. – 6 p.m. Sunday. Activities include a Made in the USA art and craft fair, a chalk art competition, live musical performances, food and drink vendors, and the Kidz Zone and eXtreme Zone.
The ever-popular Dragon Boat Races start Sunday morning.
For more information on Dragon on the Lake events and musical lineup, visit dragononthelake.com. – J.N.