By Georgia Thelen
Staff Writer
Orion's Veteran's Memorial will soon see an exciting addition to the park in the form of a new bronze sculpture.
The new sculpture, an ode to all branches of the military, will be a large German Shepherd on top of sandbags, surrounded by artillery shells.
The sculpture is a team effort of Lake Orion resident and owner of Custom Welding Company, Steve Leach, and internationally renowned sculptor Frank Varga, who created the existing sculpture of the soldier and his family at the Veteran's Memorial.
Varga, a Grosse Pointe native now resides in Del Ray, Florida where he teaches others in his art studio. Everything that leaves Varga's studio is museum quality art, said Leach.
The process of building these sculptures starts with Varga drawing a sketch and sculpting it out of clay.
He then breaks down the sculpture into pieces that can be shipped, which are sent to Leach in Lake Orion, and Leach then pieces them together in his shop on Baldwin Road and starts casting the piece in bronze.
"That centerpiece, he (Varga) built that right out of his head in clay," said Leach, speaking of an angelic sculpture that is on display at Spectrum Health Hospital of Grand Rapids. "Then three months later it's done in my shop in bronze."
Varga is currently creating the armature, or framework, for the new piece at the Veteran's Memorial. The German Shepherd is being sculpted to be 20 percent larger than a real shepherd so that it makes a more significant impact when being viewed outside.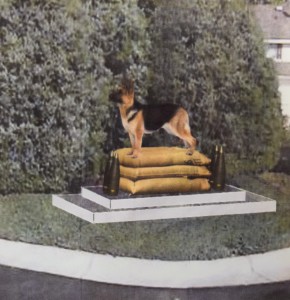 German Shepherds are widely used in the American military for their muscles, agility and courage. They also won the 2016 Westminster Dog Show for only the second time in history.
Varga himself is a Vietnam War veteran and Leach has many veteran family members, so they are excited to create another artwork for the Veteran's Memorial.
"It's just a cool thing in this town to be able to do this for our guys, our town, and everybody gets involved," said Leach. "To me it's cool to do this stuff for everybody."
Leach says he has fun working on the different Veteran's Memorial projects because being from Lake Orion, he knows everybody who is helping out. They get to work on their various projects, but they also have fun and tell each other stories while they work at the Memorial.
He says every single small detail at the Memorial has been thought out, which is why it is so pristine. The Orion Veteran's Memorial is the only memorial in the United States that was built and is maintained by the area veterans themselves, not by the city.
The veteran's are hoping to get community support for the new addition. Leach and Varga are donating their materials and labor towards this $50,000 sculpture, but the remainder of the project will cost $25,000.
People come to Lake Orion from great distances to see the current sculpture, Leach said, and the new German Shepherd sculpture should bring more visitors since it is such a synonymous piece for every branch of the military.
Anyone wishing to donate to the memorial can mail checks to the Orion Veteran's Memorial, 312 S. Broadway, Lake Orion, MI 48362.