By Rebecca Moll
Review Contributor
Lake Orion High School hosted the MHSAA Team District wrestling competition Feb. 9.
In round 1, Lake Orion defeated Stoney Creek, winning 10 of 14 matches, six by pin, with senior John Moll (wrestling at 125 lbs.) and sophomore Jaden Fisher (152 lbs), winning in the first period, for a final team score of 54-18.
Adams High School also beat Rochester High School in the first round, and then in round 2 Adams toppled Lake Orion 46-19 for the first place district title and a place at the MHSAA Team Regionals Feb. 15.
Rochester Adams is hosting the team regional event.
John Moll (130 lbs.), Juniors Noah Smith (140 lbs.), Chris Kade (160 lbs.) and Andrew Finn-James (189 lbs.) and sophomore Jaden Fisher (145 lbs.) secured wins against Adams, Kade with a pin and Fisher by major decision.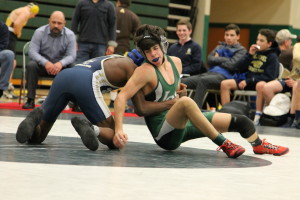 On Saturday, the Dragons battled it out at the MHSAA Individual District Competition at Troy High School.
A roster of 14 Dragon wrestlers competed against 14 other teams in the No. 2-1 District. The contest was single elimination until a chart of eight wrestlers remained, followed by double elimination until the final four remained.
Sophomore Jaden Fisher (145 lbs.) placed second with a record of 2-1 for the day.
Juniors Chris Kade (160 lbs.) and Noah Smith (140 lbs.) and Senior John Moll (125 lbs.) placed third, going 4-1 for the day.
Individual regional competition begins at 9 a.m. Saturday at Oxford High School.