The Varsity boy's basketball team played a hard game on Feb. 9, but eventually lost a close game to Farmington by a score of 54-49.
The Dragons trailed for three quarters before taking a 4-point lead with six minutes remaining, but the Falcons would outscore Lake Orion 15-6 down the stretch to pull out a 5-point win, said Lake Orion Coach Jim Manzo.
Steve Zmijewski led the Dragons with 17 points. Jamie Lewis added 14 points, while Hunter Sites chipped in with 7 points.
The Dragons ran the night with 41 rebounds to Farmington's 20, but it was not enough to pull ahead.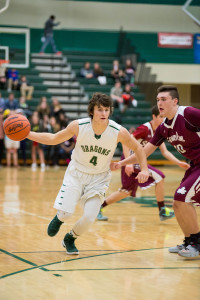 The team's Feb. 13 game put their overall record at 4-9 after a 57-49 loss against the Eagles of Eisenhower.
The Dragon's jumped out to an early 13-3 lead at the end of the first quarter and increased the lead to 12 points early in the second quarter, but the Eagles came back to overpower the Dragons.
The Dragons were led by Casey Stironek, who scored 12 points. Jamie Lewis added 11 points, while Pierce Burke chipped in with 10 points.
The Dragon's next home game is at 7 p.m. Feb. 21 against Oxford. — G..T.