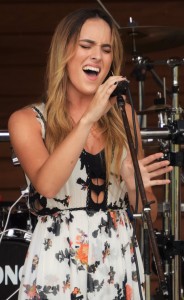 By Jim Newell
Review Staff Writer
Neither the intense, sporadic downpours, nor the clinging, often breath-sucking humidity, dampened the enthusiasm of those at the Wildwood Music Festival last Saturday.
Hundreds of fans attended the festival at the Wildwood Amphitheater in Orion Civic Center Park, refusing to let a little Michigan weather ruin the fun.
Wildwood, now in its third year, featured 12 music acts, many from Lake Orion and others from surrounding areas like Rochester, Clarkston and Waterford, said Doug Gibson, 2016 festival event director.
The festival helps raise money and awareness for Lions Club programs, which help combat blindness, provide leader dogs and free eye care, among other charitable causes.
Besides the live music performances, the festival featured a pig roast hosted by the Lions Club, a beer tent, climbing walls, trampolines and other family-friendly activities.
"It's also a showcase for local bands. Summer is not complete until you have an outdoor concert," said Gibson, an 18-year Lake Orion resident.
"We got a good crowd, a couple hundred people," he said. "We expect about 1,000 people today. It's a great family event."
In keeping with one of their missions, the Lions Club hosted Project Kidsight, a free vision screening test for kids to check for potential vision problems.
And organizers hope that artists performing for a worthy cause also brings awareness to the vibrant musical talent in Lake Orion.
"Many people don't realize the amount of talented musicians we have around here," Gibson said.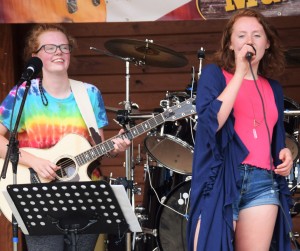 Lake Orion high school students Cayenne and Ginger Johnson performed several covers, including a song by Taylor Swift that had the younger audience dancing in front of the stage, and an original "Untitled" song, written by Cayenne.
"Having a receptive crowd is really nice," said Cayenne Johnson, "I have a blast every time we get up on stage."
The sisters perform at several festivals during the summer, and have a gig coming up at the Detroit Zoo. Both sing and play the guitar, while Cayenne also plays keyboards and ukulele, and Ginger plays the Cajon, a percussion instrument on which she sits while playing.
"We don't like calling it concerts," Cayenne said. "We like calling it a party."
And while the weather may have dampened turnout, it did not dampen the spirit of the performers or festival organizers.
"Wildwood is always the second or third Saturday in August, so there's always next year," Gibson said. "It's a good community event."
For updates on next year's Wildwood Festival, visit www.wildwoodfestival.com.
For more information on the Lake Orion Lions Club, including joining, donating, volunteering, or for upcoming events, visit www.lakeorionlions.org.