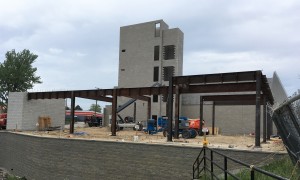 By Jim Newell
Review Editor
The village council approved a commercial rehabilitation exemption certificate for the building development at 120 S. Broadway St., commonly known as the four-story building being constructed on the west side of the road next to the Paint Creek Dam.
The exemption, known as a tax abatement, was approved 5-0 during a public hearing June 7. Council President Ken VanPortfliet and Council Member Shauna Brown were absent, with notice.
The exemption equates to about $97,000 per year that the village will not collect in taxes on the property. Around $63,000 of that would have gone to the Downtown Development Authority through tax captures.
Tax exemptions are commonly used to entice and promote new development in communities.
Councilmember Steve Watson supported the tax abatement and development.
"It's attracting a developer to come to our community for a $5.2 million development," Watson said. "And it will bring in retail and residential space to Lake Orion."
JS Capital Group LLC owns the property and is in the process of developing the village's first four-story building. Previous building development in the village had been limited to three stories.
The estimated cost of the rehabilitation – the development and construction on the property – is $5.2 milliion, according to the application for exemption documents. The exemption is for 10 years, at which time the village would collect the full taxable amount.
Village Manager Joe Young said JS Capital Group did meet the criteria for a 10-year tax abatement. The abatement is on the residential units of the development, not the commercial use of the building.
James Abramczyk, a trustee on the Orion Township Public Library Board of Trustees, was the lone person to speak out against the abatement during the public hearing.
Abramczyk said the tax abatement would cost the library about $3,000 annually in tax captures from the library millage – about 1,000 books the library would not be able to buy.
The 120 S. Broadway St. development will include about 9,000 square feet of prime retail space on the first floor and 25,000 square feet of urban-style apartments on the second through fourth floors.
The planned date of completion, according to documents submitted by Jeff Schmitz, owner of JS Capital Group, LLC, is Dec. 1.
Schmitz, of Rochester, also has proposed investing considerable funds toward a new parking structure off Anderson Street, a boardwalk from the Anderson Street lot through to Broadway Street, and has purchased the old Pet Centre lot as part of his development efforts in the village.