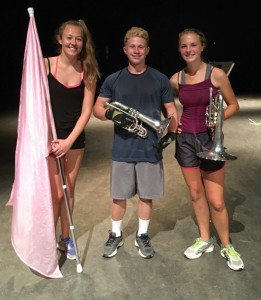 By Cathy Kimmel-Srock
Review Staff Writer
When Lake Orion High School seniors and members of the LOHS Marching Band Sean DePalma, Emily Granzow and Gina Tress take the field this marching season, they are doing so with a huge accomplishment already in the books.
All three have been selected as members of the extremely-selective US Army All-American Marching Band for 2017.
According to Mike Steele, band director for LOHS, thousands of students audition for this honor with only 125 being selected from across the nation.
"These students will train with some of the top music educators in the country over their winter break and will perform during and at halftime of the US Army All-American Bowl, which is a game featuring many of the top high school football players of the class of 2017," explained Steele.
This is not the first time that a LOHS student has been selected for this honor. Three other students have been selected in the past: Melanie Bryce, 2014; Phoebe Holmes, '15; and most recently, Alexandra Geiger, '16. What makes this year so unique, according to Steele, is that out of 125 students across the nation, more than one LO student was selected.
"This is a tremendous honor for these students and a testament to not only their playing and marching ability, but to the many factors that go into making elite student performers," he added.
DePalma, who plays the Mellophone, was shocked to find out that three of them had been selected.
"I was almost in disbelief," DePalma explained. "It is very rare for even two people from the same school to be selected."
"But on top of that," he added, "I realized just how proud I am to come from a community where hard work and ambition are so prominent that achievements like this happen."
Tress, a french horn player, agreed with DePalma.
"It really shows how much our marching program has grown over the years, and I'm proud that we have such a strong group of seniors in our band program," she said. "I'm also excited to go to the All-American Bowl with two Lake Orion friends."
Being selected for this honor is a goal that many of them have been thinking about for the past several years. For Granzow specifically, who is a member of the Color Guard, it was sitting in the audience her freshman year when Bryce was inducted into the USA All-American Marching Band Color Guard that really put the goal in her mind.
"It really inspired me, and I knew while sitting at her induction ceremony that this was something I really wanted to do, no matter what," she explained. "When I found out I made it, I knew all of my hard work paid off. The endless hours at rehearsals, competitions, and even just practicing out in my front yard, has rewarded me with this amazing opportunity, and I am so incredibly thankful."
"I have been in the Lake Orion color guard program since I was in the fifth grade, so being able to represent this program I've essentially grown up in is really such an amazing honor," Granzow added.
All three expressed their excitement for the opportunity to represent Lake Orion, as well as be a part of the experience and meet other people that love marching band as much as they do.
"I'm really looking forward to this opportunity to work with incredible music students and teachers from all over the country," said Tress. "It's a once-in-a-lifetime opportunity to get to be part of such a talented group and I know I'll grow and learn a lot as a musician."
This experience will just be the icing on the cake for the three, as all three credit marching band for bringing a wide array of positive things into their lives, such as teamwork, hard work and the importance of a good attitude, according to Tress.
"Marching band has taught me how much it pays off to work hard on making your goals happen," DePalma added. "Not only do you improve what you're working on, but you improve your attitude and outlook on life when you realize that you can accomplish anything you set your mind on."
"I have made friendships that will last a lifetime and I am forever thankful for that," said Granzow. "It has taught me determination, and that I am so much stronger, mentally and physically, than I know."
"It has taught me that it is never, ever about you as an individual and that it is always about the group as a whole," she added. "And when I am out on that field performing, it is the most incredible feeling in the world."
In order to be considered for selection, those that audition have to complete extensive and thorough applications that discuss their grades, class load, future career goals, as well as various other things.
Then, they also must submit three video auditions: a performance video, an interview video and a marching and playing/spinning video. In fact, the community can view these video auditions on YouTube by searching 'USAAAMB audition.'
In Steele's mind, the audition committee has made three great selections.
"I am very proud that these three students, who are all of exemplary character, will represent Lake Orion High School at such a prestigious event," he added.
DePalma, the son of Stacey and Charles, plans on pursuing a degree in engineering post-high school, while Granzow, daughter of Linda and Paul, and Tress, daughter of Melinda and James, both plan on earning degrees in nursing.