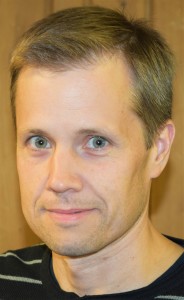 Some of you may have seen me walking around town, attending various events and quietly talking to your fellow residents.
I assure you there was nothing duplicitous about my meanderings, merely my endeavor to get to know Lake Orion and Orion Township.
Oscar Wilde said, "Biography lends to death a new terror." So here's my brief autobiographical attempt at horrifying myself.
My name is Jim Newell: new writer and photographer for The Lake Orion Review.
I graduated from Michigan State, or that school in East Lansing, depending on your particular level of lunacy.
I've worked as a journalist and photographer in Genesee County, making the transition to Lake Orion at the beginning of August.
I once, for an actual newspaper assignment, photographed a grown man in a Veggie Tales costume (he didn't smile), and then asked my editor at the time what I was doing with my life (he did smile).
A few days later I photographed the governor of Michigan (I won't say which one, but rumor has it she's gone Hollywood), and then interviewed state representative and senate candidates for an election preview section of the newspaper, so I felt I might be getting back on the right track.
What can I say; I was young and didn't know that Veggie Tales might actually be more fun.
My journalistic endeavors include covering local government, school boards and teachers' unions, police and fire departments, chambers of commerce, the business community, charitable groups, sports, a wide array of features and writing columns.
So, while I've covered a bit of everything, the one overriding principle to which I have always adhered is that the focus of any article should be about the people.
I firmly believe that newsmen (used in the old-school sense, not the gender-biased connotation) never try to blatantly or maliciously expose, incriminate, or inflame, as some journalists are accused; but seek to encapsulate the community and enlighten readers, so that they may make the most informed decisions for their community and themselves.
In my brief time here, I've enjoyed every aspect of Lake Orion (except for the road construction, the necessary evil across Michigan, but I don't think anyone will hold that against me).
The people I've met have been amazingly friendly and willing to share their stories and views on what makes Orion a great place to live, or on what areas need improvment for the betterment of the community.
I haven't meet nearly as many people as I'd like, and I'm looking forward to getting to know the community better in the days to come.
So if you see me out and about say "hello" and have a chat. I'm a professional listener.
And if you see me quietly observing, taking notes or photographs, don't be paranoid.
Well, yeah, I am probably writing about you.
If you have information to share or a story to tell, call me at 248-693-8331, or email me with attention Jim in the subject line, at lakeorionreview@gmail.com.