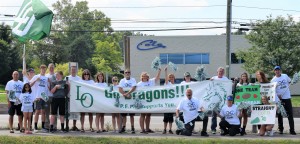 On one night, a historic rivalry will unite for a common cause
Lake Orion's annual Pink Out Game is joining forces with Clarkston's annual Football for a Cure Game to help benefit cancer survivors during their treatment.
The charity football game is Oct. 12, when the Dragons take on the Wolves at Dragon Stadium, located on Stadium Drive, east off M-24. Kickoff is at 7 p.m.
Anyone wishing to tackle the cause by sponsoring a jersey with the name of a family member or friend touched by cancer can do so by visiting https://www.mclaren.org/oakland-foundation/football-order-form.aspx. Orders must be received by Sept. 4.
People can also support the cause by purchasing a Lake Orion (or Clarkston) t-shirt at one of the following locations: McLaren Oakland-Oxford, 352 N. Lapeer Rd.; Karmanos Cancer Institute – Clarkston, 5680 Bow Pointe Dr.; or McLaren Breast Center, 5701 Bow Pointe Dr., Ste. 255, in Clarkston.
Funds raised from the game will go to A Mother's Wish Foundation and the McLaren Oakland Foundation. Both organizations help ease non-medical expenses for families that are dealing with cancer.
For more information, email lakeorionfootballforacure@gmail.com. – J.O.