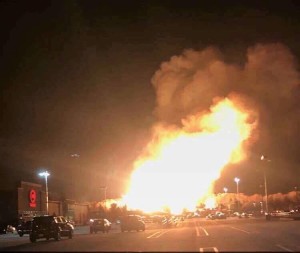 By Jim Newell
Review Editor
This week, The Lake Orion Review looks back at some of the stories that shaped the Lake Orion community in the second half of 2017.
These are some of the top news, business, sports and school highlights and the community events that affected the Orion area from July through December, by week of publication.
So, without further ado, this is the news that was…
July 5
Explosion, fire claim the lives of Orion Twp. couple; Daughter escapes with help from 'heroic' neighbor: An explosion and fire at a home on Coats Road in Orion Township claimed the lives of a husband and wife on Wednesday night in a tragedy that blew the front wall of the home nearly 30 feet from the foundation and sent flames 30-40 feet in the air, fire officials said.
The couple have been identified as Bruce and Kathy Dominguez, ages 65 and 57, respectively.
The couple's 29-year-old daughter, Kym, escaped the home with minor scratches thanks to the efforts of a heroic neighbor, township officials said on Thursday.
Fire was 'Organized Chaos': Orion Township officials have described the fire at a Coats Road home as "organized chaos" and are now trying to piece together what led to the explosion and fire that killed Bruce and Kathy Dominguez.
"It was an absolute inferno…it was just like a ball of fire," said Chris Barnett, Orion Twp. supervisor.
Village of LO proposal to run 'sewer pipe' directly into Lake Orion outrages residents; Lakeview Street homeowners, others, sign petitions against the plan: Property owners on Lakeview Street are outraged at the village's proposal to install a drainage pipe – aka: sewer pipe as the residents refer to it – for the overflow of water from the street to directly discharge into Lake Orion.
The general-consensus among the residents is that property values will decrease and the lake will be polluted.
Drug and alcohol testing facility has village looking for other options, merchant community questioning how it happened so quietly: A new drug and alcohol testing facility opened quietly on Broadway Street in the village last month, leaving some business owners questioning whether the village government should allow the facility to stay in the location.
JAMS Enterprises, LLC, a drug and alcohol testing facility, opened at 12 N. Broadway St. on June 12 in the space formerly occupied by the Dew Drop In.
Now, the Downtown Development Authority and village officials are addressing business owners' concerns and looking into options for relocating the facility.
July 12
Village Council promises to address Lakeview Street flooding concerns at meeting on Monday: Flooding on Lakeview Street was addressed by three residents during the Lake Orion Village Council meeting Monday, with President Ken VanPortfliet promising that the flooding issue would be resolved, in time.
$5M Brown Road Rehabilitation Project begins: The Brown Road Redevelopment Project officially kicked off on Thursday, and with the street reconstruction about to get underway, residents can also expect to see new business investment in the area.
Plans include widening Brown Road between Joslyn and Baldwin roads to five lanes and resurfacing the entire five lanes in the mile-long section. Road work will begin this month and the project will be completed by this fall.
Orion Twp. Fire Chief Bob Smith to retire in August: After nearly 31 years with the Orion Twp. Fire Dept., Chief Bob Smith is stepping down, officially retiring on Aug. 2.
Smith decided a few months ago to retire and the township Board of Trustees accepted his retirement resignation in June.
"It's just time to step down. The time was right. I don't want to overstay my welcome. I don't want to be the Brett Favre of the fire chiefs. I think I'm going out on a high note and that's the way I want it," said Smith, who is 68.
Anita's Kitchen to preserve 45 Flint St., still a year or so before opening: Ground-breaking will be late August if everything goes as intended for Anita's Kitchen. The much-awaited Lebanese restaurant in downtown Lake Orion has been in the works for nearly three years.
Property owner and builder, Jack Kabliska, plans to submit planning and construction documents for building permits within the next two weeks to begin the renovation process.
July 19
Fire Station No. 1 renovations could begin in August, with more parking, public restrooms: Plans to renovate Fire Station No. 1 at 93 S. Anderson St. in the village are going forward, with Orion Twp. hoping to begin the project in August.
The price tag, however, has led the township to ask the Lake Orion DDA to become a partner on the project and share some of the costs of improvements. The township had anticipated a budget of $800,000 to $1.2 million for the project, but expected costs are now $1.6 – $1.8 million.
Orion Twp. votes to sell Orion Road property: The Orion Township Board of Trustees voted unanimously Monday to sell property located at 2510 Orion Rd. Renovations to increase the value of the property have been completed, bringing the listing price to $449,000.
Jet skiers could compete during Dragon on the Lake festival in 'Brave the Wave': Jet skiers could compete for cash prizes in a race and dual-off on Lake Orion during the Dragon on the Lake festival this year. Michigan Wave Makers is hosting the first of its kind event on the lake from 3:30 – 8 p.m. on Aug. 26.
July 26
Fork n' Pint looks to serve the Lake Orion community in Sept., 30-40 jobs expected: The long vacant building at 51 N. Broadway St. finally has new owners, and the Lake Orion community seems to fully support Fork n' Pint restaurant joining the downtown.
Village Council approves Pelton's Point docks; Green's Park buildings to get new roofs; Brave the Wave permit approved for DOTL: Pelton's Point will soon be the home of six public boat docks after the village council approved the plans on Monday. During the July 24 Lake Orion Village Council meeting, $21,125 (the DDA will contribute $1,625 of this figure) was approved by the council for the buildout of the dock, complete with lighting.
August 2
Lake Orion schools sinking fund projects underway at several bldgs.: Construction and renovation projects are currently underway at Lake Orion schools. The projects are the first in a line of repairs and renovations being paid for by the district's sinking fund.
Last August, Orion residents passed the building and site sinking fund, with 57 percent of voters supporting the 2-mill request. The sinking fund is expected to generate approximately $3.5 million annually for ten years and provide a dedicated source of funding for the long-term care of the school facilities, renovations and repairs.
Fire Chief Bob Smith named Orion Twp. Citizen of the Month.
Assistant Fire Chief John Pender named interim chief.
Missing teen is safe, back at Children's Village, but faces larceny charges, ongoing investigation: A 16-year-old Orion Twp. teen who had most of Southeast Michigan looking for him has been found and is back in Children's Village in Pontiac awaiting a court date.
Lt. Wendy Reyes of the Oakland County Sheriff's Office confirmed on July 25 that Nathan Charles Greiwe had been apprehended by sheriff's deputies on July 14.
Greiwe, who was reported missing by his grandfather on June 19, has an Aug. 15 hearing on a larceny charge in Juvenile Court for stealing his grandfather's handgun.
August 9
School board to consider 'asset planning' at workshop today; What's the fate of Pine Tree Elem.?: The Lake Orion Board of Education and the board's Asset Planning Committee tabled any discussion about selling or repurposing Pine Tree until after the school year ended. Now, the district is revisiting what it should do with Pine Tree and the other properties it owns.
Golling Buick GMC classic car show raises funds for Kids' & Kops program.
Orion Twp. Fire Dept. receives life-saving saws from Firehouse Subs of Lake Orion: The Orion Township Fire Department received eight rescue saws with accessories valued at $10,572 thanks to a grant from the Firehouse Subs Public Safety Foundation.
War Dog Monument Unveiled; New monument stuns spectators at Lake Orion Veterans Memorial.
Former Wagon Wheel site to be developed into a two-story restaurant: A new restaurant is coming to downtown Lake Orion at the site formerly occupied by The Wagon Wheel restaurant, though which restaurant will inhabit the proposed building has yet to be decided.
Dia Zaraga, who owns the property and also owns Sagebrush Cantina, plans to build a two-story restaurant on the 0.13-acre lot at 102 S. Broadway St., between Paint Creek and the Verwood Apartments.
No resolution for Bridge Street seawall repairs, Lakeview Street flooding issue at village council meeting.
Village Council approves contractor for Paint Creek Trail extension: The village council unanimously approved Zito Construction as the builder for the planned Paint Creek Trail extension during its meeting Monday.
Zito Construction submitted a bid of $424,054.77 on Aug. 4. The only other bidder on the project was Pavex Corporation, with a $641,598.75 bid. The Engineer's estimate for the project was $395,537.
August 23
Repairs underway at Paint Creek Dam; Temporary cofferdam installed on Saturday: The Paint Creek Dam needs to undergo immediate assessment and repairs to fix a "depression" below the spillway that allows water to flow from Lake Orion into the creek unchecked.
The public is not in any immediate danger, nor is the dam in immediate danger of failing or Paint Creek of flooding, said village and state officials on Friday morning.
McDonald's reopens with fanfare from community during VIP evening: It may seem like it's been ages to some people, but the McDonald's on M-24 reopened on Tuesday after only three-and-a-half months of construction.
The old building – which had been in Lake Orion for 40 years – was demolished in May to make way for a new, more customer friendly restaurant.
August 30
Dragon on the Lake Festival breathes fire into LO; BYT CrossFit wins Dragon Boat Races: The Orion Art Center's Dragon on the Lake festival wrapped up another successful run on Sunday. The festival is the Art Center's biggest fundraiser of the year, with proceeds helping to fund the center's scholarships, events and programs. Partial proceeds also helped the American Cancer Society's Making Strides Against Breast Cancer initiative.
Sept. 6
All-inclusive baseball field to benefit special needs players, disabled vets; Private donor to match up to $50,000 from community: Orion Twp. is in the final week of raising funds for the proposed Orion on Deck field at Friendship Park, an all-inclusive adaptive baseball/softball field fully accessible to special needs individuals, disabled veterans and able-bodied players.
Dragons First Day of School!: To the chagrin of many students and the relief of many parents, kids started the new school year on Tuesday.
LOHS teen pursues a career in government, attends Girls Nation leadership program in DC: Allison Anker knew at a young age that she was interested in a career in government and on July 22, she joined 99 girls from all 50 states in Washington, D.C. for the 71st annual American Legion Auxiliary (ALA) Girls Nation. The program is set up to help the girls reach their democratic potential in a leadership workshop.
Sept. 13
Orion Twp. sells homestead in Oakland Twp., Atwater property still up for sale: The township board of trustees voted to sell property it owns in Oakland Township and lower the asking price for its Atwater Street property during the board meeting Sept. 5.
Orion remembers, commemorates 9/11 during ceremony at Veterans Memorial: Hundreds of people gathered at the Orion Veterans Memorial Monday night to commemorate the 16th anniversary of the Sept. 11, 2001 terrorist attacks.
Village addresses water related topics: The village council amended the ordinance to place water utility accounts over six months delinquent on July tax bills during its meeting on Monday.
September 20
LOCS to sell Clarkston Road property, repurpose Pine Tree: Lake Orion Community Schools plans to sell property it owns in Oakland Township and will repurpose Pine Tree Elementary, something the school board members had hoped for all along after announcing last November that the district would close the school.
The board directed Supt. Marion Ginopolis and her staff to put district-owned property at the corner of Adams and Clarkston roads up for (RFP) sale.
The district also is working with Oakland Intermediate School District to use the lower level of Pine Tree as a center-based special education facility for ASD (Autism Spectrum Disorder) elementary and middle school students in northern Oakland County.
Team fundraising effort leads to walk-off homerun in the bottom of the 9th for Orion on Deck: It was bottom of the ninth inning, down by $60,000 and it didn't look like Orion Township was going to meet its fundraising goal of $150,000 for the Orion on Deck adaptive baseball field.
Then, the generous people of Orion and its surrounding communities stepped up to the plate, taking the ball deep to centerfield with a homerun that reached nearly $170,000.
Construction is underway on the Paint Creek Trail extension in Lake Orion, with completion slated for middle November.
September 27
Village gets a break on Paint Creek Dam repair costs: The Michigan Department of Transportation, which co-owns the dam with the village, has offered to pay all construction costs estimated to be $535,650 and all traffic control costs estimated at $12,950. The village would only have to pay $111,440, per an arrangement with MDOT.
'The Rocks' removed from Paint Creek: The large concrete slabs in Paint Creek, locally known as 'The Rocks,' were removed this week. Orion Twp. officials have said that the paint on the concrete, logs and surrounding boulders were an ecological disaster.
Fire Department teams with GM for hybrid extrication training: The Orion Twp. Fire Dept. partnered with the General Motors Orion Assembly plant to train firefighters in extrication techniques when dealing with the all-electric Chevrolet Bolt.
4th annual Zombie Walk and Poker Run benefits Orion Lighted Parade.
October 4
ANGRY MOB STORMS VILLAGE HALL! Detroit Film Company shoots 'Nain Rouge' with Orion extras: The Detroit Film Company was in town to shoot a scene for "Devil's Night: Dawn of the Nain Rouge," using local extras and locales as a backdrop for the film.
Residents respond vehemently to the removal of 'The Rocks' from Paint Creek: Some people called it graffiti, some art, but whatever the perspective, Orion Township's covert removal of "The Rocks" from Paint Creek last week drew outrage, condemnation, reminisces of visits to the colorful landmark and pleas from residents to save some of the concrete slabs as a part of Orion's history.
Most of the comments came via the township's and Lake Orion Review's Facebook pages, and through the Lake Orion chatrooms. After posting the story and photos on The Lake Orion's Review's Facebook page, more than 80,460 people viewed the story and photos, sharing it 509 times and leaving 144 comments as of Tuesday morning.
Paint Creek receives Good Health Report from Scripps M.S.: Last Friday, during a sunny fall morning after a slight shower, the eighth-grade science class from Scripps Middle School gathered at the banks of Paint Creek in Children's Park in preparation of putting their science skills to the test. The kids' job for the day was to test the health of the river.
Anita's Kitchen to preserve 45 Flint St.
October 11
Manufacturing Day in Oakland County; Students explore options at MPD Welding in Orion Twp. as part of Oakland County's third annual Manufacturing Day on Oct. 6.
Village rejects MDOT offer on cost of Paint Creek Dam emergency repair: The Lake Orion Village Council rejected an offer from the Michigan Department of Transportation on its share of the Paint Creek Dam emergency repairs during the council meeting on Monday.
MDOT, which co-owns the dam with the village, has offered to pay the estimated $600,000 contractor costs, while the village would be responsible for paying the engineering costs of Hubbell, Roth & Clark (HRC), estimated at $60,000.
Run with Fire 5K raises awareness, funds: The Orion Twp. Fire Dept. hosted its first run to promote Fire Prevention Month and Fire Safety/Awareness in October. Proceeds from the race benefit the Orion Township Goodfellows.
Majewska pleads no contest to second-degree murders of son, granddaughter: It appears Sylvia Marie Majewska will spend up to 25 years in prison for killing her son and granddaughter nearly three years ago.
On Oct. 4, the 68-year-old Addison Twp. resident pleaded no contest to two counts of second-degree murder in Oakland County Circuit Court before Judge Denise Langford Morris. Her sentencing is scheduled for 8: 30 a.m. Oct. 26.
October 18
LOCS to explore options for CERC building use: Lake Orion administrators and school board members have known for some time that closing Pine Tree Elementary was the "pivot point" of the facilities restructuring in the district.
Now, district officials are turning their sights on the Community Resource Educational Center (CERC) to see how it fits into the long-term programming plans.
"My recommendation is that we really need a master plan on all of the CERC building…and how it fits into operations," said Superintendent Marion Ginopolis, suggesting the board form an ad-hoc committee to consider future uses of extra space at the CERC building.
Local teen's letter changes flow of traffic: Nicole Baker was a junior at Lake Orion High School last spring when she received an assignment in her American History class relating to lobbying.
So, she decided she was going to write to Orion Twp. Supervisor Chris Barnett about the traffic problem at Clarkston and Lapeer roads, suggesting that there should be two right turn lanes on to Lapeer (M24).
The engineers of RCOC and Michigan Department of Transportation (MDOT) investigated the proposal and it was agreed that Nicole's suggestion was of great value. Nicole was recognized during a RCOC meeting on Sept. 21 for her contribution of recommending an improvement to the Clarkston/ M-24 intersection in Orion township.
Orion Twp. to conduct formal search for new fire chief: The township will contract with a professional outside agency to help search for the next Orion Twp. Fire Dept. fire chief, after the board of trustees voted unanimously on Monday to advertise for a permanent replacement. The search will cost the township up to $16,000, paid for from the Contractual Help budget.
October 25
Anger over the removal of 'The Rocks' leads to graffiti elsewhere on the Paint Creek Trail: Vandals angered over the removal of "The Rocks" have lashed out, spray painting a restroom along the Paint Creek Trail. The Oakland County Sheriff's deputies took a report of vandalism from the Paint Creek Trailways Commission on Oct. 18.
Vandals damaged the trail restroom and spray painted "Bring back the Rocks" along with other obscene words.
OCSO/Golling Buick hockey team faces off against Red Wings Alumni in charity game.
Lake Orion girls volleyball to face Clarkston in district play Nov. 1.
November 1
Orion Twp. completes phase 1 of Clarkston Road Safety Path: Orion Twp. is a mile closer to connecting the Paint Creek and Polly Ann trails with the completion of a portion of the Clarkston Road safety path last week. Bikers and pedestrians can now use the path, which consists of an elevated wooden boardwalk along the north side of Clarkston Road near Camp Agawam.
Village, LOPD honor employees during appreciation & awards evening: The Lake Orion Police Department and the Village of Lake Orion held their annual employee appreciation and awards ceremony Oct. 24, thanking employees for their service and honoring their achievements over the past year.
Orion Twp. Board approves rezoning request; Clarkston Road Speedway could build new store, expand pumps: The Speedway gas station on the southwest corner of Clarkston and Lapeer roads could be expanding after the township board approved the second reading of a rezoning request at its Oct. 16 meeting. Speedway LLC wants to purchase 0.41 acres of property on the west and south sides of the current Speedway gas station in order to expand its gas station and convenience store.
November 8
Orion Twp. receives an offer, counteroffers on sale of Atwater property: Orion Township could be a step closer to finally unloading three lots it owns on Atwater Street, after an offer on the property during the board of trustees meeting Monday night.
The board received an offer of $120,000. The property, next to the Atwater Commons townhouses, had been listed at $159,000, a reduction from the township's previous list price of $189,000.
The board countered with an offer of $140,000. A decision to move forward with the deal could come at the next board meeting on Nov. 20, after the potential buyer considers the township's counteroffer.
New Waldon robotics team prepares for their first – ever – competition: Waldon Middle School has a new robotics team, the Waldon Dragons. The team had its first meeting on Sept. 9 and will compete in their first meet on Nov. 18.
State Senator Jim Marleau faces questions on credit card spending: State Senator Jim Marleau, R-Lake Orion, is under scrutiny for his credit card purchases, raising questions of whether he used campaign funds to pay for personal expenses.
The Detroit Free Press first broke the story on Oct. 29 that Marleau "has used campaign donations to pay off credit card bills totaling more than $114,000 since 2011. More than $65,000 of those charges were not itemized.
LaLone named MDA volunteer of the year: Molly LaLone, executive director of the Lake Orion Downtown Development Authority, received the MDA (Michigan Downtown Association) Volunteer of the Year award for her work as chair of the MDA Legislative Committee and other vital volunteer activities.
November 15
Orion Twp. Trustee Ron Sliwinski accused of sexual harassment: Township officials have received anonymous statements and copies of emails accusing Trustee Ron Sliwinski of sexual harassment while he was a teacher at Lake Orion High School last school year.
Sliwinski is also under investigation after a complaint was filed with the Oakland County Sheriff's Office. The township received 44 envelopes on Nov. 6 containing an unsigned statement and copies of emails accusing Sliwinski of harassing a fellow teacher.
Village escapes with paying only 5.17 percent of total Paint Creek Dam repair costs: The Lake Orion Village Council voted to accept the offer by the Michigan Department of Transportation to pay one half of the Paint Creek Dam repair engineering costs during the council meeting on Monday.
MDOT and the village co-own the dam, and it was initially believed that MDOT and the village would split all costs, which would have made the village responsible for an estimated $350,000 plus engineering fees.
However, after reviewing the contract between the village and MDOT, an agreement was reached that MDOT would be responsible for 100 percent of the contractor costs and the engineering fees would be split 50/50 with the village. The final engineering costs are $69,270, resulting in a $34,635 cost to each party.
Lake Orion Development: The ground has broken on the mixed-use four-story development next to the Paint Creek dam at 120 S. Broadway.
The property is owned by Jeff Smith of JS Capital Group, who acquired the property last year and is also the builder and developer. The first floor will be 9,000 square feet of prime retail space and the upper three floors will be 24 upscale apartments, 8 units per floor. The apartments range in size from 800 square foot studios up to 1,500 square foot apartments and are expected to be between $1,200 to $2,000 per month.
November 22
Explosion, fire rock Orion Twp. after gas line ruptures: An explosion and fire shocked the south end of Orion Township Monday night after a natural gas main ruptured on the north side of Brown Road shortly before 10 p.m.
Witnesses as far north as Waldon Road reported they felt the ground rumble when the explosion occurred and heard what sounded "like a jet engine." Minutes later, a plume of fire and smoke billowed into the night sky, visible from miles away.
Orion Township Interim Fire Chief John Pender said a Consumers Energy gas main ruptured, causing the explosion on the 700 block of Brown Road, west of Joslyn Road, across from the Meijer and Target complex. The fire was behind the Checkers Drive-in restaurant on the north side of Brown Road.
Ortonville shooter arraigned, faces 8 felony counts; Michael Quigley was a 2001 Lake Orion High School grad: The suspect in the shooting of two people in Ortonville has been issued an 8-count felony warrant against him. He was arraigned on Nov. 17.
Michael Quigley was taken into custody on Nov. 15 in connection with the shooting. The charges include 2 counts of assault with intent to murder, 1 count of assault with a dangerous weapon, 1 count of first degree home invasion and 4 counts of possession of a firearm in the commission of a crime. All of those charges together could lead to multiple life sentences.
Orion Twp. board votes to refer Sliwinski case to the state Attorney General's office for review: Orion Twp. will refer a case of sexual harassment allegations against Trustee Ron Sliwinski to the state Attorney General's office for review.
The board of trustees voted unanimously during a special meeting Nov. 15 to send the case – and documents – to the state "for purposes of review and investigation."
November 29
Orion Goodfellows embody the holiday spirit: The Orion Twp. Firefighters Goodfellows will pull on their full fire gear to sell special editions of The Lake Orion Review from Dec. 1-3, with proceeds benefiting Orion families this holiday season.
Brown Road gas line fire cause still undetermined: Investigators are still working to determine the cause of a pipeline rupture that created a massive explosion and fire off Brown Road a little more than a week ago.
Debra Dodd, media relations for Consumers Energy, said results of the investigation should be in sometime in December.
"The investigation regarding what caused this Consumers Energy pipeline rupture is still ongoing. We did remove the affected section of pipeline on Nov. 24 while a representative from the Michigan Public Service Commission was onsite. This pipeline is currently undergoing metallurgical testing to try and determine why it failed. We expect to have some more information to share in about a month," Dodd said.
Lt. Dan Toth of the OCSO graduates from prestigious FBI National Academy: Orion Township's top cop is now a graduate of the FBI National Academy, a 10-week professional course in Quantico, Va., for training U.S. and international law enforcement leaders in advanced techniques.
Lt. Dan Toth, commander of the Oakland County Sheriff's Office – Orion Twp. substation, graduated Sept. 15 as part of the 269th class of the National Academy.
Village accepts engineering proposal for water main replacement project: The Lake Orion Village Council awarded the engineering contract for the nearly $8 million watermain replacement project and drainage problems on Lakeview Street. The construction engineering for phases 1 and 2 of the water main replacement project was awarded to Hubbell, Roth & Clark (HRC) in an amount not to exceed $285,430.
December 6
Lake Orion schools get clean audit report, deemed 'a low-risk auditee': Lake Orion Community Schools received an "unmodified opinion" on its annual audit report, the highest form assurance it could receive, from its auditors during the board of education meeting Nov. 29.
Orion Township officials demand to meet with Consumers Energy about gas main explosion, fire: On Monday, the township board of trustees publicly thanked the first responders who battled the Brown Road fire, shut down roads in the area and evacuated some homeowners and businesses as a precaution.
Supervisor Chris Barnett also said township officials demanded to meet next week with the president and vice-president of Consumers Energy to get answers about the future safety of the area and gas mains.
LOHS Girls FIRST Robotics Team 302 places 2nd: The Lady Dragons from the Lake Orion High School Robotics Team 302, along with some girls from high school engineering classes, teamed up to compete in the annual Bloomfield Girls Robotics Competition on Nov. 11.
Scripps Robotics going to state finals Dec. 15: Scripps Middle School Robotics Team 11691 has kicked off the 2017-2018 season on the right foot by having a successful win at their first tournament in Midland.
The Orion Lighted Parade Group presents 'A Magical Christmas': The annual lighted parade strolled through the village on Dec. 3. On Dec. 2, Golling Buick GMC hosted the Holly Jolly Folly, the signature fundraiser for the parade.
December 13
Orion Twp. to negotiate on proposed cell tower at Giddings Road fire station: Orion Twp. could be getting a new cell tower if negotiations fare well between the township, Verizon and the company that wants to install the tower.
The board of trustees unanimously approved a motion at its Dec. 6 meeting to allow Supervisor Chris Barnett and the township to enter into negotiations with Tower Company and Verizon to construct and install an approximately 160-foot cell phone tower at the rear of Orion Township Fire Station #2 at 3801 Giddings Rd.
Village receives clean audit, no 'material weaknesses' for FY 2017: The Lake Orion Village Council received the village's annual audit, year ending June 30, 2017, from Roger Hitchcock of the village's new auditing firm, AHP — Andrews, Hooper, Pavlik.
Chamber honors business leaders during annual Impact Awards ceremony: The Orion Area Chamber of Commerce held its annual Impact Awards ceremony Dec. 6, recognizing those individuals and businesses that have made a significant contribution to the Orion community.
Oakview Middle School students take on 'Kindness Challenge': For the students at Oakview Middle School, taking up the challenge to spread acts of kindness to their classmates resulted in a truly impressive display of warm-heartedness.
"In total, Oakview students tallied over 6,000 acts of kindness!" said Principal Sarah Manzo.
Dragons defeat Wildcats in OT, 55-54, to start boys basketball season 2-0.
December 20
Lions Christmas Baskets to help 275 Orion area families, seniors: The Lake Orion Lions Club held their annual Christmas Basket pack on Friday at the CERC Building before delivering the baskets on Saturday. The beneficiaries of this year's "nice" list are Orion area families and senior citizens who need a little assistance this Christmas season.
Orion first responders connect with kids during Shop with a Hero: Fifty-four deserving children, representing 36 families, went shopping for Christmas gifts with approximately 51 local police officers and firefighters Dec. 14 at the Oxford Meijer store as part of the annual Shop with a Hero event. Orion sheriff's deputies and firefighters joined the event.
December 27
Orion Township accepts consent judgement on Gregory Meadows subdivision; 103 homes could be built at the site: The proposed Gregory Meadows subdivision is moving forward after the township's board of trustees voted to accept a court-ordered consent judgement at its meeting Dec. 18.
The agreement settles litigation that had gone on for months after the board rejected the developer's proposal to build 142 homes on 68.857 acres on the south side of Gregory Road, west of Baldwin Road.