By Jim Newell
Review Editor
There were savory dishes galore and items better than any store at the 4th annual Taste of the Town fundraiser event Saturday evening.
The Lake Orion Lions Club and Lake Orion United Methodist Church co-hosted the event at Kings Court Castle in Canterbury Village. This year's festivities included cuisine from 18 Lake Orion and Oxford restaurants, silent and live auctions and music and dancing.
"We sold 177 tickets and each organization should make about $5,000," said Lion Bob Erickson, co-chair of this year's Taste, along with his wife and fellow Lion, Sue Erickson. "All the money that we raise stays right here in the community and it all helps people who need help."
"I thought it was a good turnout. A little smaller than last year, but people came and had a good time. And, I thought they had a very nice selection of food," said Lions Club member JoAnn Van Tassel, who volunteered at the event.
The Taste of the Town usually gets between 180-200 attendees, organizers said.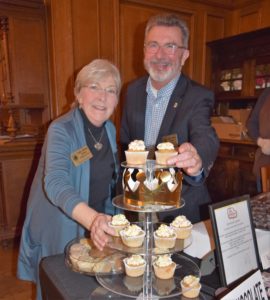 "Sometimes, the restaurants get new people the very next day (after the Taste of the Town) …which is pretty cool," said Lion Sue Erickson.
Proceeds from the ticket sales and auctions go to outreach programs for both organizations, such as the Lions Christmas Basket program and the Methodist Church's Blessings in a Brown Bag and Monday night community meals.
Auction items included a round of golf for four at Indianwood Golf & Country Club; four Detroit Tiger tickets behind home plate; a package to see the musical Hamilton in Chicago; a Nashville unplugged package; a Napa Valley excursion; a cabin vacation in Honor, Michigan; a condo vacation in Oscoda, Michigan; and 2 sets of four tickets to a Disney theme park, Sue said.
There will also be autographed memorabilia from Hall of Fame baseball players Willie Mays, Ted Williams and Don Mattingly, Sue said.
For more on upcoming Lake Orion Lions events, or information on how to volunteer and donate to the club's efforts, go to www.lakeorionlions.org or visit their Facebook page.