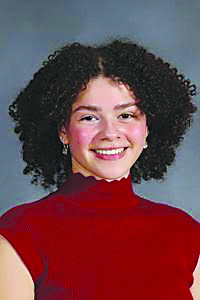 Parents: Craig and Johnna Williams
Grade: 12
GPA: 4.14
Favorite subject(s): English, Ceramics, Environmental Science
Extracurricular activities: Theatre, Social Inquiry, Art Club
Hobbies/Interests: Acting, Writing, Ceramics, Guitar, Hiking
Plans after graduation:  I plan to attend a 4-year University and study Theatre Arts, English and Environmental Science.
Lyric is proudest of: I am most proud of the improvement of my mental well-being and how I've learned that I don't have to be perfect, I can try my best and that will be enough.
Lyric makes a contribution by: I help to make the world a better place by being as sustainable as possible and cleaning up waste that I find outside. I want to protect our planet to make the world safer for future generations.
Where Lyric sees herself in 10-20 years:  I see myself living in Switzerland, working as an attorney in the field of Environmental Law and Policy.
What concerns Lyric in the world: The issue of climate change and the abuse of natural environments and resources.
Favorite thing about Lake Orion High School: My favorite thing about Lake Orion High School are the teachers of my favorite subjects. My favorite subjects are so enjoyable because of how much my teachers care about what they teach and who they teach it to.
Recommending Teacher: Mr. Scott Boeneman