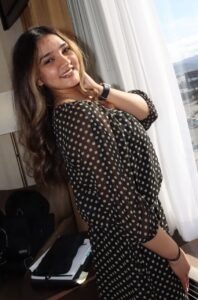 Parents: Jignesh and Archita Shah
Grade: 12
GPA: 3.27
Favorite subject(s): Math
Extracurricular activities: Being a part of the LOHS girls' tennis team.
Hobbies/Interests: Spending time alone and listening to music that brings me comfort.
Plans after graduation: I plan to attend Grand Valley State University in the fall and major in finance.
Avi is proudest of: Coming out of my comfort zone and being independent in a whole new country.
Avi makes a contribution by: All it takes to make the world a better place is to be generous. Greeting LOHS employees or giving a smile to someone passing by will impact the world environment. I make it a point to do these things not only at LOHS, but also if I notice someone passing by in a grocery store or a restaurant.
When Avi thinks of the future: I see myself having a job in California and living a comfortable life, which means financially stable.
What concerns Avi in the world: There are still a few countries that do not believe in gender equality. Men, as much as women, endure discrimination these days. Some people believe that some roles are better suited to women or men in particular. You can't do what you love because of your gender identity.
Favorite thing about Lake Orion High School: The faculty, of course, and the positive environment where you don't have to worry about being judged.
Recommending Teacher: Most generous person ever, Mrs. Conner.