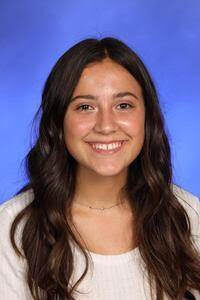 Parents: Daniel and Andrea Haas
Grade: 12
GPA: 4.277
Favorite subject(s): English
Extracurricular activities: I love Leadership, Cultural Outreach, Cross Country and Lacrosse
Hobbies/Interests: I like to spend time with friends, going shopping, to the movies and running.
Plans after graduation: I plan on getting a Bachelor's degree in Linguistics and then get a Master's in Speech Pathology so I can work with children who have communication disorders.
Amielia is proudest of: Getting accepted to the University of Michigan.
Amielia makes a contribution by: I try to participate in clubs that I feel make a positive impact on our school and community, as well as spread positivity to the people I interact with daily.
Where Amielia sees herself in 10-20 years: I hope to have a family of my own, living in Michigan and I'll be a Speech Pathologist in a school setting.
What concerns Amielia in the world: Honestly, I can't decide that because there are so many, and I don't really view one over the other. Although, I am passionate about making sure all people are treated with kindness and respect, no matter their race, ethnicity, religion, sexuality, etc.
Favorite thing about Lake Orion High School: I love all the people here. My friends, peers and staff bring a lot of Dragon pride to the school.
Recommending Teacher: Mrs. Bendle