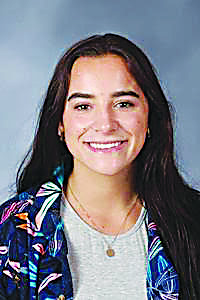 Name: Allison May
Parents: Catherine and Paul May
Grade: 12
GPA: 4.127
Favorite subject(s): English
Extracurricular activities: I love being a part of Lake Orion Leadership and being on the girls varsity basketball team.
Hobbies/Interests: Outside of school I am a waitress at Bitter Toms Distillery, part of the St. Josephs Youth Ministry and I just received my diploma for an online fashion program through Parsons School of Design and Teen Vogue.
Plans after graduation:   I have not decided where I am going to college yet. I am still waiting on my decision from Florida State. My top three choices are Florida State, Kent State and Auburn University. I will be studying Fashion Merchandising and I hope to also learn about Fashion Media.
Allison is proudest of:  In my life, I am very proud of how involved I got into my community. I have a lot on my plate at all times and although that might be stressful at times, I love every second. Whether it is volunteering at a local event, or putting on last years prom, I love trying new things and challenging myself.
Allison makes a contribution by: I have always believed that the most important thing somebody can have is a positive attitude and a strong work ethic. Through personal experience, when I surround myself with negative, lazy people, I start to act like them. I want to always be that person that makes her peers around her better. I want to find success and happiness and share it to everyone around me. This makes the area around me a better place because it will be an uplifting environment.
Where Allison sees herself in 10-20 years:  If you ask any of my family members or friends, I have had this planned out since I was about six. In 10-20 years I hope to be working at a popular brand or fashion magazine in New York City. I hope to be a fashion marketer or a fashion journalist, and at this point in my life I would like to be able to travel. I see myself going all over the world to places like London or Milan to help put on runway shows and to see the newest trends. I assume I will settle somewhere in New York outside of the city, but I could always return to Michigan.
What concerns Allison in the world: What concerns me the most in this world is our political environment. In today's world, different opinions bring anger and frustration. These opinions and thoughts should bring curiosity, and the opportunity to have a calm conversation. When you hear a new viewpoint, you should try to see it from that persons side. If you do not agree with it, at least you tried. Nowadays, people of all ages are so tunneled visioned on their beliefs because they never look into the full story. It is an ignorant way to live, and if it continues, it will just bring more divide and anger into this country.
Favorite thing about Lake Orion High School: My favorite thing about Lake Orion High School is the bond. On days like Cellout, the whole school is one big family. I love how Lake Orion allows you to have opportunities to put yourself out there. When I MCed the Cellout For Soldiers Assembly, I felt more apart of my school than I ever have. I understand that some people would never want to stand in front of the whole school and speak, but there are always ways to get involved and to truly feel like a Dragon. These unique opportunities that Lake Orion offers are unlike any other I have heard from other schools. Most importantly, I will always believe in the statement, "Once a Dragon, Always a Dragon."
Recommending Teacher: Mrs. Novak