Robert H. Ackerman "Ackie", 89, lost his long battle with Alzheimer's disease Saturday, September 3, 2016 at Winkler Court in Fort Myers, Florida. Robert was born October 9, 1926 to Harold and Marion (Combs) Ackerman in Roseville, MI, the younger of two children. In 1934, he moved with his parents and his sister Katherine to Bell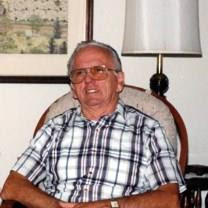 evue Island in Lake Orion. He graduated from Lake Orion High School in 1943.
After graduation, he joined the Merchant Marines serving as a radio operator from 1944-47. He always had fond memories of his time aboard ship. He met and married Beverly Baird on February 7, 1948 in Oxford, MI. They built a home on Bellevue Island where they lived until 1971, then moving to Oxford.
Robert worked for 17 years at Porritt Dairy, where he made many lifelong friends and advanced to General Manager. Upon closing of the dairy, he became an electrician for Arnold Electric in Clarkston, where he was employed for approximately 5 years. He then worked for Koenig Gravel in Lakeville as the plant electrician. In the mid-1970's, he started Robert Ackerman Electric. He owned the company until 1982, when he moved to Stuart, Florida and continued working as an electrician until he retired.
Robert was preceded in death by his wife of 65 years, Beverly, who passed on August 9, 2013; four children, Michael (Elizabeth) Ackerman, Montrose, Colorado, Craig Ackerman, Cape Coral, Florida, Steven (Patti) Ackerman, Nicholasville, Kentucky, and Kimberly (Dan) Dempsey, St. Clair Shores, Michigan; eleven grandchildren; eleven great grandchildren; and many other loving nieces, nephews and relatives.
A private family memorial service will be held in Lake Orion. Burial will follow in the Eastlawn Cemetery in Lake Orion. In lieu of flowers, memorial donations may be sent to the Alzheimer's Association, P.O. Box 96011, Washington, DC 20090-6011.