Lake Orion girls volleyball team moves on to state playoffs on Friday
By Megan Kelley
Review Writer
Lake Orion's girls volleyball team competed in regionals this past week starting with a sweep of the Troy Colts in the regional semi-finals on Nov. 6.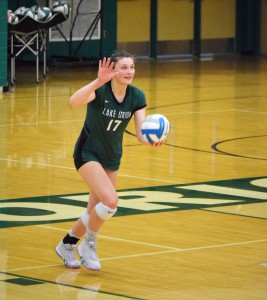 Coming off of the big win, the girls had to stay focused for the regional finals against the Stoney Creek Cougars just two days later on Nov. 8 in the Dragon Fieldhouse.
Head Coach Tony Scavarda predicted that, should the team come out with a win against Troy, they would play Stoney Creek and expected that the Cougars would give them a tough match in the finals, but what he didn't predict was another clean sweep in three sets.
"I expected the match versus Stoney to be very tough. I didn't expect to win in three (sets), but I knew we had it in us to do so as long as we executed at a high level. I was extremely proud of how we fought from behind at the end of the third set and won," Scavarda said. "The girls showed a lot of heart."
Lake Orion dominated Stoney Creek in the first two sets with final scores of 25-18 and 25-16.
With a roaring crowd, the Cougars controlled most of the third set. The third set ended with a score of 31-29 and was the closest set of the match.
The Dragons fell behind early in the set, but managed to fight back and tie the score at 24-24.
Thus ensued a number of back-and-forth point scoring before Lake Orion managed to outscore the Cougars by two points to clinch the win and claim the regional title.
Paige Briggs and Sydney Smith lead the team in kills with a combined total of 27, outnumbering Stoney Creek's team total, and Cara Livingway contributed 22 digs for the Dragons.
In addition to the Regional title, the girls join what Scavarda referred to as the "Elite 8" or the eight best high school volleyball teams in the state.
The girls start the state quarterfinal playoffs with a match against Flushing on Nov. 13 in Fenton.
Lake Orion is currently ranked no. 2 in the state, while Flushing is currently ranked no. 17.
Despite the gap in their current state ranks, Scavarda expects a tough match.
"We played them earlier in the season and we came out on top but it's a whole new ballgame in the post-season," he said.
If the girls win against Flushing they will be playing the winner of Farmington Hills Mercy vs Sterling Heights Stevenson in the state semi-finals at the Kellogg Arena in Battle Creek on Friday, Nov. 16.
Mercy is currently the top-ranked team in the state and has come out on top against Lake Orion during three of their four previous matches.