By Jim Newell
Review Editor
ORION TWP. — When R.O.C.K. Club meets, there is an atmosphere of respect and an eagerness to hear what the teachers have to say.
The club – Responsible, Outstanding, Caring Kids – is a program for third through fifth grade boys at Orion Oaks Elementary. Kids are taught to look people in the eye when speaking to them, how to introduce themselves, shake hands, make a good first impression and character traits like integrity, responsibility, honesty and how to listen to others.
"It is building young men with responsible behaviors. In a word, it's about accountability," said third grade teacher Dan Martin, who started the club 26 years ago at Pine Tree Elementary. When Pine Tree closed, he moved to Orion Oaks Elementary and continued the program.
Over those 26 years, approximately 900 kids have been a part of the club. This year, 62 boys are in the club, Martin said.
Norman Wright, a fifth-grade teacher at the school, joined R.O.C.K. Club as a co-mentor.
He didn't know what to expect from R.O.C.K. Club when he joined Martin but has taught lessons and sees the benefits of the program. R.O.C.K. Club students have approached him with things they've seen, such as disagreements on the playground, and talked to him about how they handled the situation and did the right thing even though a teacher wasn't there.
"It's just amazing to see all these boys from different grade levels coming together, helping each other out and standing up and doing the right thing when they're supposed to do the right thing," Wright said.
Membership in R.O.C.K. Club is by invitation, so when a student gets to join the club there is a sense of pride and accomplishment. The kids are recommended by their teachers based on the example they set in their classroom.
The club members get to wear their R.O.C.K. Club shirts on meeting days and Martin said students tell other kids in their classes what they learned in the club. Teachers have told Martin and Wright about how R.O.C.K. Club kids have approached them, talked to them and shook their hands.
One of the things Martin loves most about the club is the change he sees in the boys over time.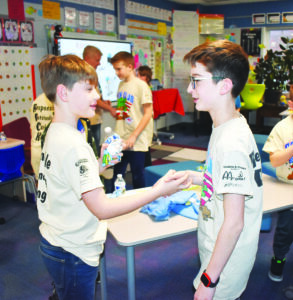 "I think the way that I see them when they come in and the way that I see them once they put the shirt on there's so much pride there for them that they really do, every kid, wants to do the best that they can do," Martin said. "Nobody wants to be a troublemaker. And this is just an avenue for them to do that."
And it has an effect in other areas of the school, not just in the club, giving kids the opportunity to learn how to deal with one another socially outside of the classroom, Wright said.
"Definitely. Even if there isn't a kid in my grade level and I see them wearing that shirt I can say one word to them and they straighten up," Wright said. "I love everything that R.O.C.K. Club stands for and we're trying to organize something for the boys to go outside of school."
"We try to work on lifelong skills. Today's lesson was on introductions, handshakes and personal grooming, which are skills they are going to need all their lives. It's a lot of skills that will sustain them and make them better people as they get older," Martin said.
The boys respond with respect and attentiveness to the classroom lessons. During the lesson in February, "you could hear a pin drop," Martin said.
"They're hearing the same things that they probably hear at home, but they're hearing it from somebody different. They'll come back to me and say, 'You know, my mom and dad have said the same thing but I guess I just didn't really listen to it. But now that I hear it in R.O.C.K. Club, maybe there is something to it,'" Martin said.
"I always tell the boys: I don't mind if you screw up, because you're going to, we all do. Come and talk to me or Mr. Wright. Explain to me what happened and how you're going to do something different than what you just did. So, the accountability piece (of the program) is really the big piece," Martin said. "And now some parents are really excited because they ask their boys 'Is that R.O.C.K. Club behavior?' And their behavior changes."
Martin hears from former students and parents about how R.O.C.K. Club affected them and how the principles they learned helped them out later on.
"Like having kids come back and say, 'I went for my first job interview and I remembered I learned how to shake hands and introduce myself when I was in R.O.C.K. Club,'" Martin said.
A former student, now 26-years-old, brought his wife to the club because she had heard all about it and wanted to see for herself. Martin was invited to their wedding.
The club meets on Thursdays to discuss various topics that affect the students and how they can become better young men. After the meetings, the boys adjourn to the gym for a little activity: dodgeball, basketball. Boys, after all, will be boys.
The club also welcomes community sponsorships to help with the cost of t-shirts, snacks or for some of the projects the club wants to do. Anyone interested in offering support can call the Orion Oaks main office at 248-393-0010.