Girls finish regular season at league, county meets
By Jim Newell
Review Editor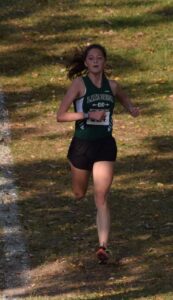 The Lake Orion girls varsity cross country team competed in the Oakland Activities Association cross country meet on Oct. 15 at Bloomer Park, placing fourth overall.
Senior Sophie Novak broke the 19-minute mark for the second time this year and had her best time of the season, wining the league meet by running the 5,000-meter course in 18:55.2 minutes.
Coach Deb McDonald said that while Novak was the only runner to win all-league honors, her young squad put up a good show against some tough teams.
"The team did put together one of their best races this season so far by finishing 4th place in the meet. The team looks forward to competing in the pre regionals this Friday at Clintonwood Park in Clarkston," McDonald said.
Clarkston won the league meet with a score of 29. Troy was second, 67; Rochester Adams finished third, 78; Lake Orion (99) edged out Oxford (101) by two points for fourth place; and Birmingham Seaholm came in sixth place, 138.
Oakland County meet
The girls ran in the Oakland County meet on Oct. 10, a day after the boys county meet to help limit the number of people attending the race.
Sophie Novak finished sixth in the county with a time of 19:06.6.
No other Dragon girls finished in the top 50 runners. The team overall finished in 16th place, with a score of 419.
Clarkston dominated the girls county meet, wining with a score of 85, while Walled Lake Northern finished a distant second at 116.
Highland-Milford finished third with a score of 191, Walled Lake Western was fourth at 207 and Rochester Adams finished in fifth place at 221.