Read first-hand reviews from the students
By Jim Newell
Review Editor, and
Blanche Sims Elementary first grade student reviewers
LAKE ORION — It's been said that everyone's a critic, but for the first-grade writers at Blanche Sims Elementary that does not mean they have to be critical.
In fact, the budding writers took pencils and crayons in hand to compose positive reviews of area restaurants and other venues as part of a writing assignment this month.
The students' teachers – Tricia Clendennin, Jaime Lovely, Andrea Wayne and Tracy Wellman – approached the assignment as part of their writing curriculum, but also saw it as an opportunity to get the kids excited about their schoolwork.

"Part of our writing curriculum includes units where we have to have them write their opinions or reviews of things they know a lot about, so that's where the idea came from. But so many of them have experiences with restaurants so they chose to write about restaurants. They were really excited about it," Wayne said. "They really like telling what they think because they don't get to do that very often. They don't get to tell what they think about things or to give their ideas; mostly they have to listen to what other people are saying. So, this is their time."
Students across the four classrooms wrote about such favorites as Taco Bell, Fork 'n Pint, Starbucks, DK Donuts and other eateries, but some preferred to write about their favorite venues, like the trampoline park.
And there were a lot of reviews of McDonald's.
"They are excited that they're going to be in the paper and get their picture taken. They're excited that other people are going to be reading their writing, other than just their peers or their teachers. Now they know that they're going to share it with the world," Wayne said.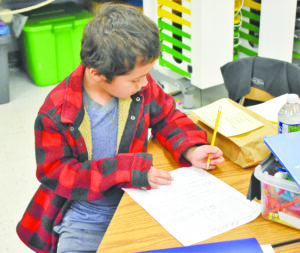 Lovely said her students mostly wrote about restaurants but some, surprisingly, reviewed Target or Kroger.
Matt, however, chose to review the trampoline park as one of his favorite places. "You get to jump and there's a place where you can play games and a place where you can eat."
Lily, one of Wayne's students, reviewed McDonald's, which she visits after her Irish dance class. "I go there a lot. I wrote about it because it's fun," she said, adding that now she's writing a review of the new Super Mario Bros. movie that she saw at the Oxford 7.
Willow also wrote about McDonald's, saying she likes the fries and oatmeal. "I like writing a lot and I'm really good at it," she said. Her dad goes bike riding at Bald Mountain and she really likes the apple cider mill.
Dominic (who likes to go by "Dom") wrote about McDonald's. "I usually go there with my grandma and grandpa. The thing I like most about McDonald's is the fries. That's the only thing I eat at McDonald's," he said.
Dom also learned one of the perils of writing while composing his review. "It took a lot of writing. One day my hand hurt."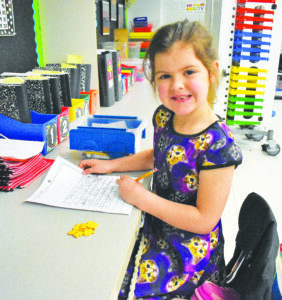 Leo was editing his review of Cooks Dairy Farm. "I'm reading it to make sure it makes sense. And I cross out what doesn't make sense. I wanted to write about an ice cream place because I love ice cream."
The reviews have already had an impact on the teachers.
"I feel like there are places in Lake Orion that I've never been and I need to go to now. Snap Taco, for instance. Henry wanted to write about that and I thought it was a great idea because I've never been there and (his review) is making me want to go," Wayne said.
Blanche Sims Elementary first graders' reviews:
Do you like salsa and chips and especially tacos? If you do then read this to find out the place for you. I like Snap Taco because if you go inside the waitresses will give you free chips and salsa. They have soft tacos and hard tacos. I give Snap Taco 5 stars. – Alexis G.
Do you hate Starbucks? If you do read this and you will start to like it. You should try Starbucks because they have every treat you would want. They have big brownies. They have big chocolate chip cookies and they have cake pops. For the breakfast food they have breakfast sandwiches and protein boxes. For the drinks they have coffee and water and dragon fruit drinks. At Christmastime they have snowman cookies. You can even sit at their tables and work. Just try it because you don't know that you don't like it if you do not try it. I will give it 5 stars. – Leah S.
Have you ever had Taco Bell? If you have not had it you should go get it because their shells are crunchy. Taco Bell has dessert. There are cinnamon rolls but some people think they are sticky. You can get soft shell tacos or you can get hard shell tacos. There are so many options. I give Taco Bell a 5-star rating. – Cooper C.
Have you ever gone to Fork N Pint? They have the best fries. I love it because the fries are so good. They have pop, water and lemonade. I love it because you can go there for lunch or dinner. It is a good family restaurant. I give it 5 stars. – Mariah G.
I think you should go to McDonald's because you should try the cheeseburger. In my opinion they are really, really, really good. You could get a normal burger or a cheeseburger. The burgers are delicious. They are cooked well and made well. Another reason you should go to McDonald's is the French fries. They are salty and golden brown. They get deep fried really well. One last reason is you can get different drinks like water, chocolate milk, Sprite, and Coca Cola. Now you know why McDonald's is a good restaurant to go to. – Isaiah B.
Do you like breakfast sandwiches? Well if you do, great, go try one now at Tim Horton's. I'd give it 5 out of 5 stars. I like the croissant sandwiches. They have eggs. I do not like eggs, but it is very good in it. Another reason is that a breakfast sandwich is so soft and it is just the best. So I think you should get a breakfast sandwich at Tim Horton's. Stop reading this and go to Tim Horton's now! – Leo B.
I think you should go to Sagebrush because they are amazing. One reason why Sagebrush is the best is because they always give you chips and salsa. I don't know about you, but when I go to restaurants, I'm always hungry so that's why I think chips and salsa is so good. Another reason why Sagebrush is the best is because they have nice food. For example, chicken tenders, salad, and Mexican Pizza. One last reason Sagebrush is the best is because when you are waiting they have games in the back. I'd give it 5/5 stars. That's why I think you should go to Sagebrush. Go there and get some food now! – Brityn S.
Do you like to eat nice, crispy donuts and delicious sandwiches? You do? Well, I think you should go to DK Donuts. One reason is because there are different kinds of donuts. For example, long johns, chocolate covered donuts and filled donuts like berry, blueberry, and apple filled. Another reason is because they have more than just donuts. They also have sandwiches. For example, they can put eggs on it or not, you can put hot sauce on it or not. One last reason is because they have more than just random chocolate covered donuts. And so you know they close after lunch and breakfast. They close after lunch because they don't have any dinner foods, but don't worry, they still have amazing donuts and sandwiches! I think DK Donuts is awesome! I'd give it 5 out of 5 stars. Well, what are you waiting for? Go to DK Donuts! – Emery K.
I think that Sushi and Thai is the best restaurant because it has fresh shrimp. Another reason is it is a healthy restaurant. The last reason is because it has my favorite food which is spaghetti.
– Harmon C.
I think the hibachi restaurant is the best because it's steak is the best. Another reason is the noodles are the second best. The last reason is they have the third best rice. – Andrew S.
Do you know who has really good enchiladas? Let me tell you! Rio has good enchiladas because you can order meat in your enchilada or chicken. They also have good red sauce. They put red sauce on your enchilada. I like the red sauce because it is not too spicy. Another reason is they put a good amount of chicken or meat. Another reason is it is not too hot or not too cold. – Lillian C.
I think Arby's is good because it has REALLY GOOD sliders. My favorite is the roast beef slider! Another reason is the curly fries are good and the cheese sauce, too! And another reason is because the bags are always really fun! The last reason is they have really good Jamocha shakes. Jamocha shakes are a kind of coffee shakes but they are okay for kids, too. – Sloane V.