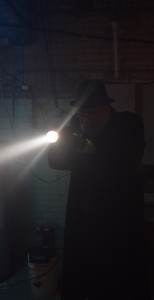 Director aiming for late spring 2018 release date
By Jim Newell
Review Editor
Lake Orion's been bitten by The Nain Rouge.
Ever since The Review published an article in October on the film being partially shot in Lake Orion, residents have asked repeatedly for a follow-up and more photos of the film crew at work.
On Dec. 22, The Detroit Film Company continued shooting the mystery/thriller/police film at the Ehman Center in downtown Lake Orion.
The movie, Devil's Night: Dawn of the Nain Rouge, which has used local extras in its scenes, is being filmed at a variety of locations in Detroit, Pontiac and Lake Orion.
Director Sam Logan Khaleghi invited The Lake Orion Review to the shoot and, along with LOPD Chief Jerry Narsh, a consultant on the film, gave an interview and behind-the-scenes access to the cast and crew.
The film, based on a Detroit legend, is a horror/police thriller set in Detroit and a fictional Lake Orion.
The Nain Rouge, French for "red dwarf," is a local legend about a mythical creature said to haunt the Detroit area. The Ottawa tribe originally believed it was a protector of the area; later it was feared by the inhabitants of the city as a "harbinger of doom."
Khaleghi and crew were filming the climatic interior scene of the film at the Ehman Center. And while The Review can't reveal the details of the scene and spoil it for moviegoers, it does involve LOPD officers storming the Ehman Center.
Khaleghi said the film crew has a few more scenes to shoot before wrapping. He hopes to have a release date in late spring, with limited release in Emagine Theaters until the movie finds a distributor, at which time it will then become available on DVD and Blue-Ray.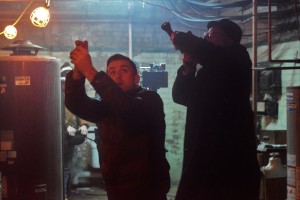 Interview with Director Sam Khaleghi and Chief Jerry Narsh:
"First and foremost, I want to thank Jerry Narsh, Christian Mills and Kellie McDonald for letting us shoot at the Ehman Center. We've been embraced by the community in an awesome way," Khaleghi said. "And that's the reason that we're here – because of the people who invited us and allowed us to shoot the epilogue of the film on location in Lake Orion.
"I love it (filming in Lake Orion). I couldn't ask for a better place to be – the geography, the access to amenities, the downtown, everything the village council has done for us, they've been fantastic. The fire department and police department. Everyone who smiles at us while we're here. It's just been great," Khaleghi said. "Every time I come here I'm excited to eat – Lockhart's, Sagebrush, ABeanToGo.
"I love the Orion extras because they ask all the right questions and they're so excited. They want to know what goes into making the film and they pitch you ideas. You get to sit there and hear all of their stories. It's kind of like getting to meet new family members. That's what I feel like, like Orion residents are new family members and we've created so many friendships here.
"There's definitely more to film. There's just a handful of days left. There's some scenes where I think people will recognize some staples of the Orion community. (The crew also filmed at the American Legion Post #233 in December).
"We're looking at a platform release in the Midwest in Emagine Theaters, likely in late spring of 2018, and an international premier at the Cannes Film Market at the end of May, followed by hitting the festival circuit pretty hard," Khaleghi said.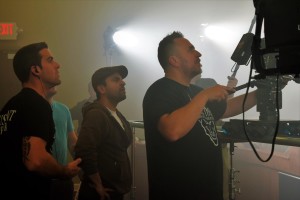 "We've already had a few major distributors who have output deals through Hulu, Netflix, Amazon Prime, they've reached out to us just based on the teaser trailer that we released. So, we feel pretty confident that a taste of the film is out there and people want to consume it," Khaleghi said.
"I'm excited about having our officers here. This is a very law enforcement officer heavy scene, it's one of the last big scenes in the movie," Narsh said. "What I'm excited about, what brought me in to consult on the law enforcement aspect, is this today. What the viewers will see on how their Lake Orion officers perform. They're going to approach this scene exactly like they would if this was a real police call, minus the monster, of course.
"What the viewer is going to see is the tactical response, and it's very realistic, it's exactly the way we would do it," Narsh said. "Personally, I can't stand watching a movie where everything the officers did was wrong. It annoys every cop, fireman, EMT when they see these things."
"I'm very elated and grateful to the residents of Lake Orion and the men and women in uniform who are here today assisting in making our production as authentic as possible. As a filmmaker, they owe me nothing, but as someone who's trying to represent the community and someone who's trying to represent law enforcement accurately I owe them everything," Khaleghi said.
Narsh has been serving as a consultant on the film. Lead actor Jesi Jensen has trained with Narsh and members of the LOPD to bring authenticity to her role as a Lake Orion police officer.
About 50 people answered the call in October for extras to play angry townsfolk in the film, many of them Orion residents. The scene calls for residents to carry signs and demand answers from the mayor, played by Amy Andrews of Fox 2 News Detroit fame, after a series of grisly deaths in the fictional Lake Orion.
Narsh, who plays Police Chief Anthony Romano, and about 13 Lake Orion police officers also appear in the film.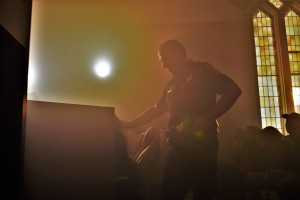 "Nain Rouge" is directed/produced by Sam Logan Khaleghi, an Emmy-nominated producer. Istvan Lettang is the film's cinematographer.
Khaleghi was raised in Detroit and graduated from West Bloomfield High School, and has a bachelor's degree from the University of Michigan-Dearborn and master's degree from Northwestern University.
Jesi Jensen plays Billy Jean Finnick, an LOPD officer who investigates the strange occurrences. Actors Nate Kane and Ammar Nemo play undercover Lake Orion police officers who help investigate the case.
On the web: www.facebook.com/NainRougeFilm.
The Lake Orion Review's Facebook page also has a link for the film's trailer.