Darth Vader was sighted in downtown Lake Orion but he wasn't blowing up planets or putting a stranglehold on anyone who showed a lack of faith in his powers.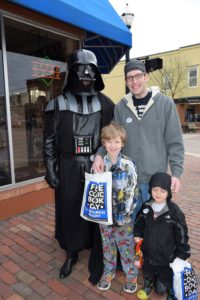 Vader (a.k.a. Stefan Andrew) greeted fans outside of Prime Time Comics & Cards in downtown Lake Orion for Star Wars and Free Comic Book Day.
May 4th is the unofficial holiday celebrating the Star Wars franchise and its impact on pop culture, and "May the Fourth be with you" is the catchphrase of Star Wars Day. It is a pun on a famous line from Star Wars, "May the Force be with you."
But since May the Fourth also fell on the first Saturday in May, fans got a double-dose of comic enthusiasts – it was also Free Comic Book Day. Prime Time Comics and the Orion Township Public Library handed out free comics to visitors.
The library hosted its first Fandom Fest, bringing together fans of all the pop culture canons – Harry Potter, Star Wars, the Marvel and DC comics – for a day of activities. – J.N.