By Jim Newell
Review Editor
For Julie Barnes Maurer and her family, going through her daughter's childhood cancer may have left her feeling isolated and terrified, but it was the team of family and friends and people throughout the community who supported her that gave her strength and let her know she wasn't alone.
Julie's daughter, Catie Maurer, was diagnosed with cancer in 2002.
"Catie was diagnosed with stage IV cancer when she was 17 months old. Non-Hodgkin's Lymphoma and Acute Lymphocytic Leukemia of the Pre-B cell, came into our lives and tried to take my baby. Baby cancer impacted every facet of our lives. My boys, Charlie and Jacob, were seven and five when we started our battle. I remember a very young Charlie asking me if his sister was going to die…That is why I am doing this," Julie said.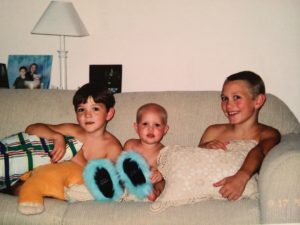 "She had a 50-50 shot of survival is what they told us. Had it been six years earlier with my oldest, Charlie, his odds wouldn't have been that good. Had it been me, back in the 1900s, my odds would have been even smaller," she said.
Now, Julie is rallying a team of supporters to continue the fight against cancer. She's taking part in the Leukemia & Lymphoma Society's Man & Woman of the Year campaign to raise money for research and support programs.
Her children are joining her, as are dozens of friends and supporters. And becoming a supporter is open to everyone.
"Our team is called Mission is Possible," Maurer said. "Our goal is to raise as much as possible to support the cause. For every $50,000 we raise, we get to name a research grant and put it toward specific grants."
As part of her fundraising efforts, Maurer and a team of 10 friends – including her children, two other cancer survivors and Orion Township Supervisor Chris Barnett – are going skydiving on Saturday at Midwest Freefall in Ray Township. Maurer hopes, by taking the leap of faith, to inspire others to help with the cause and raise $5,000 by Friday evening.
She's also planning a Euchre Tournament on Friday. Visit her Facebook page, www.facebook.com/julie.b.maurer, for event details.
To donate to Maurer's Woman of the Year campaign, visit her team page at https://pages.mwoy.org/mi/detroit19/jmaurer.
"I'm doing this because this is just so important to me. This year Catie, celebrates 15 years of remission from stage IV cancer," Maurer said. "It just seems like I'm supposed to do it, because it wouldn't be fair to other people not to have this opportunity to celebrate 15 years of remission."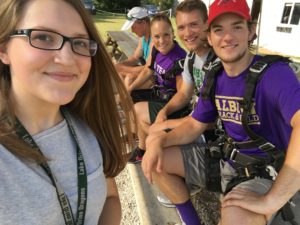 Today Catie is a freshman at Wayne State University studying Music Education. She has been invited to sing with the Detroit Symphony Orchestra on several performances.
Julie grew up in Rochester Hills, graduating from Rochester Adams High School. She and her family moved to Lake Orion and all three of her children graduated from Lake Orion High School.
"Catie was diagnosed when we lived here in Lake Orion and this community was amazing. People, strangers, came out of the woodwork and made us casseroles, had golf outings and spaghetti dinners. One of the moms from Blanche Sims, Jackie Nowicki, she organized the first fundraiser. The kitchen staff, the teachers, the community held a spaghetti dinner for us. To this day I carry that with me because I wouldn't have known to do that for somebody before this happened to me," Julie said.
"To this day, to keep being involved in this is my constant thank you because I'll never be able to say thank you enough for the way this community rallied around us," she said.
"And then the outpouring of people's generosity; I think that's why I get so involved now because I don't know how else to say, 'Thank you.' I certainly can't cook enough casseroles and say 'thanks' to everybody that made casseroles for us. There are so many strangers who came out to help us, I don't even know who some of these people are who stepped up."
So, paying it forward is how she's showing her gratitude.
"Every dollar we raise goes to research to help progress treatments. It's not always about finding a cure. Sometimes, it's about finding a treatment that gives you a better quality of life, patient care, patient education, there's so many blessings that come from an organization like this," Julie said.
Many LLS supported therapies not only help blood cancer patients, but are also now used to treat patients with rare forms of stomach and skin cancers and are in clinical trials for patients with lung, brain, breast, pancreatic and prostate cancers. And LLS funded drugs like targeted therapies and immunotherapies are now saving thousands of lives every day.
"We really are getting close to our goal of a world without blood cancers," Julie said. "All donations are greatly appreciated and tax deductible. They'll not only support LLS research, but patient services, advocacy, public and professional education, and community services as well."
This isn't the first time that Maurer has supported the Leukemia & Lymphoma Society. She's participated in past Man & Woman of the Year fundraising events, with her team raising more than $150,000 in 2017 and $250,000 in 2016.
She also enters triathlons and half-Iron Man races to raise money for research and treatment.