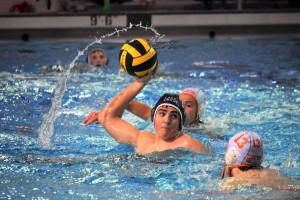 By Jim Newell
Review Editor
As some of the parents and players say, not many people in the community even know that Lake Orion has a varsity water polo team.
But the Dragon boys' varsity water polo team came away with a big win, 19-10, against Troy United on Aug. 20 to open their season over a fellow District 3 member.
Lake Orion has had a boy's water polo team for only about eight years, so the program is relatively new, and has a new coach this season with Kevin Ott taking over the head coaching duties. Ott has been head coach of the girls' varsity water polo team for the past three years.
The Dragons are also a young team.
Of the 16 players on the team this season, only four are seniors while nine others are either sophomores or freshmen – a young team with a good outlook for the future.
For the upcoming season, Ott has one overriding goal: Improvement.
"Improvement as a team, that's my first fundamental goal. Improvement individually goes hand-in-hand with that," Ott said. "Obviously, our record should be better if we're doing those things. It will be a product of what we're doing well, but I can't forecast what other teams are doing to improve."
For Ott, getting Lake Orion's players to reach their potential and develop their skills individually and functioning as a team is the focus.
"I can say that I've seen marked improvement already. We're on task."
In their home opener on Aug. 28, the team lost to Walled Lake, 13-5. The Dragons were led in scoring by Collin Calvert, who had three goals. JP Buckner and Michael Pavelich each added a goal apiece. Matt Stone stopped 12 shots in goal, while Calvert led the team with three steals.
Walled Lake's team is made up of players drawn from all three high schools in Walled Lake.
The team's next home game is 6 p.m. Sept. 13 against Chelsea High School at the Lake Orion High School Natatorium.
"We're in District 3. We compete with Troy, Groves, Seaholm and other schools in our area," Ott said. Water polo is a club sport in Michigan, so schools are not broken into traditional divisions, such as in football or basketball. Instead, more like a district.
The team has played some "lower end tournaments, some JV specific tournaments, just to see where the team level is at," Ott said. "I'm trying to feel out where we're at skill-wise. I feel like we're developing some of our lower-end players to bring them up to a level I would consider varsity level.
"There's a few players starting to hit that threshold where I would expect them to do certain things and achieve varsity-level play," Ott said. "I think were about two or three players deep right now for varsity level but we're working on building the team to get there."
The team has been enthusiastic and worked hard in preseason, Ott said.
"They seem rejuvenated, that would be a good word to use. They're really energetic, taking in as much as they can each practice and learning a lot," the coach said. "We're taking a lot of positive steps forward with the program and certain fundamentals they need to work on and executing game plans."
Seniors Daniel Reimchen and Camryn Carvalho are the team captains.
"Definitely I'd say we have other leaders. Leaders aren't just the ones that are team designated, or team voted. It's giving players opportunities and seeing who steps up into those opportunities. We have a lot of leaders on the team," Ott said.
Ott also encourages student-athletes who want to try a different sport to come out.
"We're always looking to grow our team, especially kids with swimming backgrounds. It's always a good break from the yards. It's a different type of swimming, they'll definitely come out of the season stronger."
Ott also has a message for Lake Orion fans, encouraging them to attend a game and cheer on the team. "If you've never seen a game, definitely come out and give the kids your support.